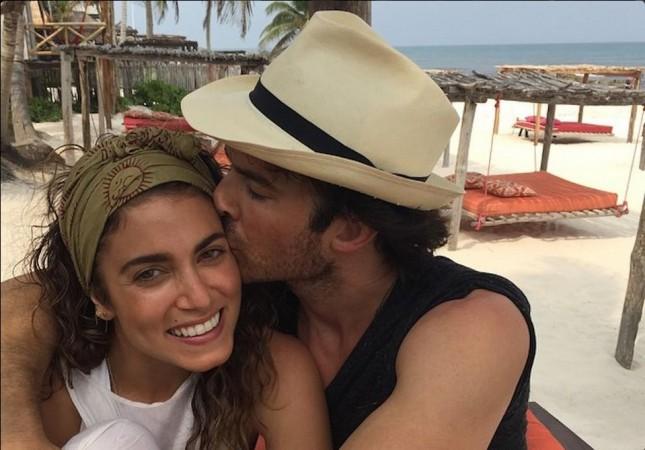 Ian Somerhalder and Nina Dobrev's relationship allegedly became uncomfortable soon after "The Vampire Diaries" actor became involved with Nikki Reed.
Somerhalder and Dobrev were said to be friendly even after their split in 2013, but things took a turn for the worse when Reed and Somerhalder became an item, and the actor reportedly started flaunting his relationship in front of Dobrev.
This, according to some, was one factor that caused Dobrev to bid adieu to the CW drama. However, Dobrev dismissed these rumours in an interview with E!Online, stating that there was no bad blood between them.
"I've said this before, that we didn't break up because anything bad happened or because there wasn't love or friendship. I love him and the friendship is still strong and I think he's great and I care about him. And that didn't change. Yes, we're professional and that's fine. We were friends long before we dated and we still are now," Dobrev said.
But Somerhalder's recent decision to unfollow Dobrev on Twitter has sparked speculation that all's not fine between the duo. Reports note that Reed influenced Somerhalder to unfollow his girlfriend on the microblogging site, and the singer is even said to have liked a post stating she was better for Somerhalder than his ex girlfriend Dobrev.
Fans of Dobrev haven't taken this too kindly, with many slamming Reed for being an insecure person.
"I hope Ian and Nikki have a fight about it because she can't go around thinking or saying she's better then anyone else," one fan wrote on Twitter. "Damn she's so insecure. she needs to get over it. Team Nina ALL THE WAY," another fan added.
In the meantime, Dobrev is said to be enjoying her new relationship with "Whiplash" actor Austin Stowell. According to reports, Dobrev even brought Stowell to best friend Jamie King's baby shower and introduced him as her boyfriend.
Season 7 of "The Vampire Diaries" will return in October. However, Dobrev will not be a part of the vampire drama, as she quit the series a few months back.