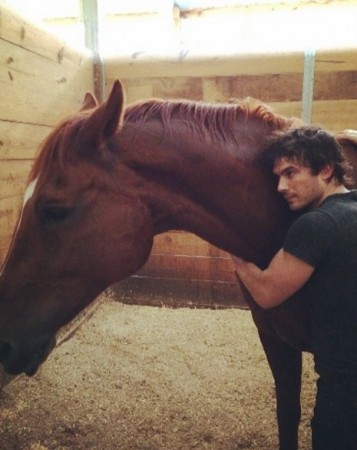 Ian Somerhalder and Nikki Reed took their relationship to the next level when the two adopted a horse named Eagle.
Somerhalder announced the news on Instagram with a photograph of him hugging Eagle.
"Proud new dad... What amazing creatures they are. Wow. His name is Eagle. Thank you @iamnikkireed for snapping this special moment, with our big baby boy," Somerhalder captioned the picture.
Sharing a pet is a major step in their relationship, which came to light in July after the two were spotted hanging out at an LA farmers' market. They have officially been a couple only for a short period of time, but Reed is said to be head over heels in love with Somerhalder, reports said.
"Nikki is a major romantic and when she falls in love she falls hard," a source revealed to HollywoodLife. "She's already saying that she's in love with Ian, they spend all their free time together and they're even talking about adopting a rescue dog together."
It is no secret that Somerhalder is fond of animals. He even founded the Ian Somerhalder Foundation back in 2010 to collaborate with people to save the planet and its creators. But Reed, too, seems to be fond of pets, as she and her estranged husband had two German Shepherds.
In addition to their love for animals, the pair is also said to share a similar lifestyle, which includes staying at home rather than partying.
"Nikki is super normal, as far as celebrities go, she's not at all high maintenance or a major partier and neither is Ian," a source dished to The Hollywood Gossip. "They both love staying home and just hanging with friends."
Ever since he started dating Reed, his relationship with former lover and his "The Vampire Diaries" co-star Nina Dobrev appears to have become strained, and a source claimed that because the two have a common friend circle, the situation is awkward.
The two are currently filming the sixth season of "The Vampire Diaries," where they play lovers Elena and Damon.
However, she doesn't hate Somerhalder for moving on in his life, another source told HollywoodLife.
"Nina is over him to the point that she doesn't have to date him ever again, but she will always love him," the source said. "She can't hate him because that would make things weird on the show and would make so many things go into shambles. She knows that she can't be unprofessional."