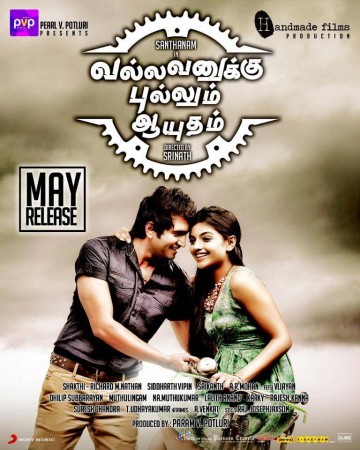 Santhanam's newly released "Vallavanukku Pullum Aayudham" has received favourbale reviews from critics.
Directed by Srinath, "Vallavanukku Pullum Aayudham" (VPA) is a remake of Telugu hit "Maryada Ramanna". The Tamil version introduces Santhanam as a solo hero, who has also produced the film along with PVP Cinema.
Story: Shakthi (Santhanam) is an orphan living in Chennai. He works as a water-can delivery boy and struggles to make ends meet. His uncle tells him about his father's family land in a small village named Aravakadu but also warns him about a 27-year-old family feud that might even lead to his death. Despite the warning, Shakthi decides to go there and sell the property to end his financial troubles.
On his journey to Aravakadu, Shakthi meets Vaanathi (Ashna Zaveri), the daughter of the village landlord Singarayar (Nagineedu). Singarayar is waiting to kill Shakthi in a bid to avenge the death of his brother, murdered by Shakthi's father. Without knowing that Nagineedu belongs to the enemy family, Shakthi lands up in his house as a guest.
Soon, the landlord realises that Shakthi is the guy whom he wanted to kill. However, Singarayar and his family members follow an age-old tradition – not even a single drop of blood will be shed inside their house. They decide to kill Shakthi when he steps out of the house. How Shakthi manages to stay alive forms the crux of the story.
Critics have said that the first half of the film is entertaining but the second half loses steam. However, they heaped praises on Santhanam performance as a full-fledged commercial hero.
"Vallavanukku Pullum Aayudham is a Santhanam show all the way. In addition to displaying some extraordinary dancing prowess, he also delivers as a complete actor, displaying a range of emotions. His brand of comedy, which is quite famous now, is hilarious and slapstick, and brings about hearty laughter on more than one occasion, especially in the first half," said Nandita Ravi of Deccan Chronicle.
"The real strength of Vallavanuku Pullum Ayutham is Santhanam's robust performance as Sakthi. He looks good, emotes, dances and evokes laughter with one-liners in his own signature style," according to Sify.
The film's heroine Ashna, the villains and the supporting cast have done an adequate job. On the technical front, "Siddarth Vipin's BGM worked really well, especially his work in the thrilling portions inside Rayar's house maintains the tempo. Cinematography by Shakthi and editing by Saikanth is adequate," stated Rajasekar of Cinemalead.
Song placements and the long-drawn-out climax have been pointed out as some of the drawbacks of the film.
On the whole, "Vallavanukku Pullum Aayudham" is a decent entertainer that can be watched for Santhanam's central performance.
Verdict: Watch it for Santhanam
Photo Credit: Facebook/VallavanukkuPullumAayudhammovie