Jai is returning with "Valiyavan", which is directed by M Saravanan of the "Engeyum Eppodhum" fame and produced by K Sampath. The Tamil movie hit the screens on Friday, 27 March.
It is a romantic comedy starring Jai and Andrea Jeremiah in the lead roles. "Valiyavan" has D Imman's music, Dinesh Krishnan's cinematography and Subarak's editing.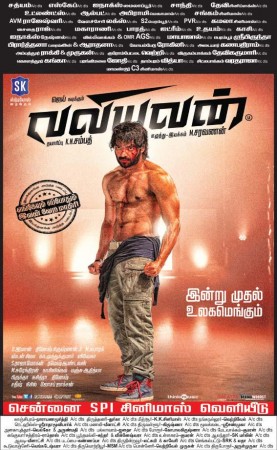 Vinod, played by Jai, is happy with his white-collar job and leading a normal life. Andrea Jeremiah plays his love interest, who gives a twist to the story. The hero lands in a difficult situation and how he tries to come out of it forms the crux of the story.
Reviews:
"Valiyavan" is getting mixed reviews from the audience. While some have enjoyed the mass elements, many have felt that the screenplay is not up to the mark. However, Jai has come out with flying colours. His performance in action sequences gets full marks and the display of his six-pack abs will remain in the minds of his fans in the years to come. Andrea's chemistry with him works well.
Below, we bring you the live comments posted by the viewers on Twitter:
Raisa Nasreen Posted
#Valiyavan: so used to watching Andrea in Sundar C films that I am finding it hard to accept her in a movie out of his camp.
#Valiyavan: first half looks pretty stylish, well lit scenes. Now just hope the film picks up pace post interval.
Ulaganandha Wrote
#Valiyavan - Stylish but okayish first half. Yet to reveal the plot. Hope it gets the pace post interval! #FirstHalf
ChristopherKanagaraj Tweeted
#Valiyavan 1st half very avg! Neither performance nor d scenes are new or interesting! Only gud thing is the music and locations!
#Valiyavan 2nd half is very gud with nice climax!! jai six pack and Ashagamperumal performance is gud!! Overall its watchable for 2nd half!!
Riazahamed Tweeted
#Valiyavan first half finished not much interesting half baked first half
#Valiyavan except the last 20 minutes nothing so much interesting if you have time to kill and want to see new movies this week go for it
Sidhu Wrote
#Valiyavan: Just pass. Okayish entertainer which would have been a snoozefest if not for Andrea, music and camerawork.
#Valiyavan: Power packed climax with exciting BGM, but the build up to it isn't worth it. Love track and comedy - completely out of juice.
Mahavishnu Comedian Tweeted
#Valiyavan - No other directors can't think ds much wndrful worth story in between splendid romantic script
Angu Arunkumar Wrote
@Actor_Jai Done with morning show bro.. Nice flick #Valiyavan . #climax semma powerful na..
Common Man Posted
#Valiyavan - Imman's BGM & Climax fight sequence acts as saving grace of the movie.
#Valiyavan Jai - Ajith padathula Aasai parthu irukingalae.. #Thala occupies majority of the movies without screen presence :-)