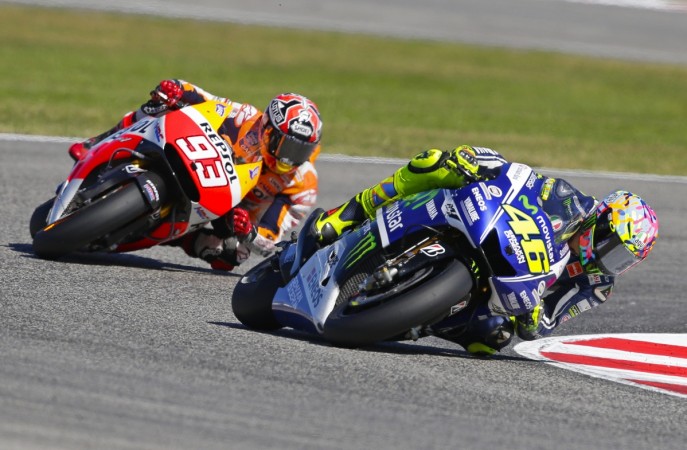 Italian champion Valentino Rossi clenched the San Marino Moto GP title before his home crowd on Sunday. This was his maiden win of the season.
The 35-year-old received a warm cheer from fans after he won his 81st career MotoGP title. The nine time world champion finished 28 laps and 1.578 seconds ahead of Yamaha rider Jorge Lorenzo.
Championship leader Marc Marquez finished 15th after he fell and crashed his Honda on lap 10 while he was trying to close the gap. He restarted his Honda but finished 75 seconds behind Rossi.
Rossi won the title at the Misano Circuit that is situated few kilometers from his home town Tavullia. Last time, he won on Italian soil was back in 2009.
"I am very happy because the feeling to win at Misano is much better, in front of my home crowd and family and friends," Rossi said, who last won at Assen in 2013.
"I think the Yamaha had a small advantage here in Misano. I was very strong in the warmup and knew I could fight for the victory.
"To win again after one year is a great feeling and I couldn't wish for any more from today."
Marquez started from the second row for the first time in the season to seal his 12th win and Rossi qualified for third after Lorenzo and Andrea Iannone. However, Marquez and Rossi showed their impeccable skills and impressed fans as they overcame Lorenzo on the fourth lap.
Rossi was leading Marquez just when the Spaniard fell and buried his chances to win.
"At the beginning I had some battles with Marc and Jorge but I knew if I could resist it that I had a good pace," said Rossi, who became the first rider to reach 5000 career points.
"I knew Marc wanted to stay in front. After I saw the board and understood that he had crashed or something it was a little easier as I already had a small advantage over Jorge."
Meanwhile, Marquez said he saw the possibility of winning over Rossi but because of the "mistake" he lost the chance.
"I saw the possibility of fighting with Valentino for the victory, but that was not possible in the end because of the mistake, I was riding over the inside of the rumble strip and that meant that I lost the front," the Spaniard said.
"Luckily I was able to rejoin the race, continue with a good pace and score a point that could always come in handy in the future."
Despite the bad finish, Marquez still commands the first position on the charts with 289 points, Pedrosa (215) is second and Rossi on the third spot with 214 points.