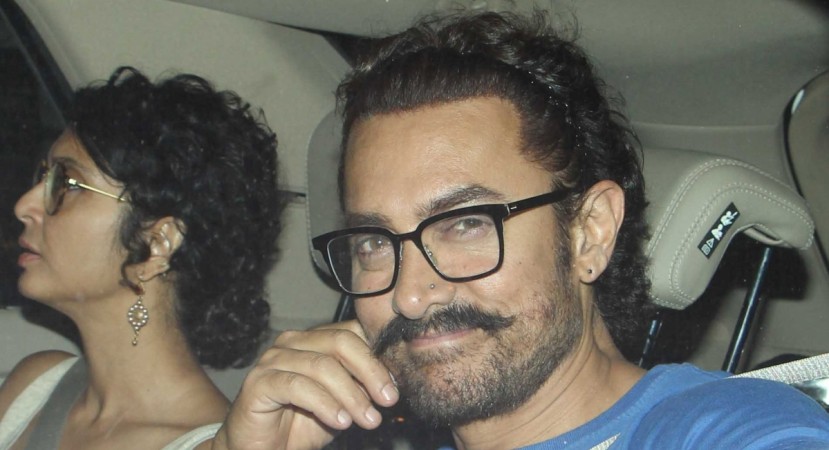 The actor who took to social media to wish his audience on Valentine's Day, received tremendous engagement with fans requesting Aamir to share his first love story.
Soon #AamirKaPehlaNasha began trending with Twitter users from across India asking Aamir to share his first memory of love.
In a video post on social media, Aamir Khan spoke about his Pehla Nasha aka his first experience of love. [Click to watch the video]
The actor who began the day by listening to his Valentine's Anthem Pehla Nasha, wishing his followers on the occasion of Valentine's Day.
In a heartfelt video, Aamir Khan narrated his first love story where he was only 13 years old, during his Tennis practice sessions. Sharing his story of a silent unrequited love, Aamir Khan also shared that he has a special place in his heart for all incomplete love stories.
He said: "I fell in love for the first time when I was ten years old. And very few people know about this. I had joined Tennis coaching and it was a big group that time. Around 40-50 kids. There I saw a girl and was just dumb-struck. It was 'pehla nasha' for me at that moment. I just fell head over heels in love with her. I was totally besotted with her."
He also confessed: "Day and night I used to think only about her. Woh jo line hai, 'uddta hi phiroon inn hawaon mein kahin'... I was just flying in those days literally. I was really small, just 10 years old and I had no courage that I would go and tell it to her. She was a beautiful girl, around the same age as mine. Well, I would say because of her my Tennis was definitely improved because I used to practice a lot. I used to arrive first and leave last. I wanted to impress her but after sometime she left the town with her family. So it was unrequited love. Main kabhi lucky nahi tha love mein. Ab hoon, lekin uss waqt nahi tha. I always have a special emotion in my heart for lovers who fall in love but don't get the love that they want."
Terming the feeling of his first love as 'Pehla Nasha', the actor described his situation being similar to the lyrics of the song 'Udta Hi Fhirun... Inn Hawaaon Mein Kahin'
Known to be a quintessential lover boy onscreen, Aamir Khan showcased a never seen before aspect of his persona. Pehla Nasha brought to the screen Aamir Khan expressing his love profusely, as he was seen drunk in love.
Jo Jeeta Wohi Sikandar marked the collaboration between Aamir Khan and director Mansoor Khan, the song further was a result of creative innovation in music by the duo.
30 years since its launch, Pehla Nasha still is a popular amongst the masses for its soulful melody and heart touching lyrics.
Celebrating the essence of the day, Aamir Khan gave a perfect treat this Valentine's Day to his fans.