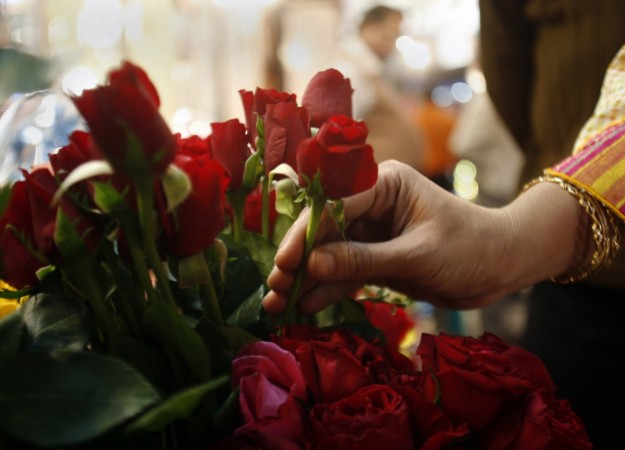 Indian flower-growers are apparently a happier lot this year, with Valentine's Day falling on a working day, unlike last year, when business for sellers and exporters of rose stems was dampened since Valentine's Day was on a Sunday. Exporters hope to ship about five million rose stems this year from the Bengaluru region.
Export of rose stems from India is predominantly from Bengaluru and Pune, while the buyers are located in Austalia, New Zealand, the UAE (Dubai), Qatar, Saudi Arabia, Singapore, Malaysia and the UK (London).
Read: Funny Valentine's Day jokes for all the singles out there
"The flowers (rose stems) start arriving from February1 till 10/11 for exports to these countries. The price this year ranges from Rs 11 to 17 per stem and freight costs add about Rs 4 to 7," Jayaprakash Rao, general secretary of the South India Floriculture Association, told International Business Times India.
Roses are grown in and around Bengaluru, Krishnagiri (Tamil Nadu) and a few other places such as Ooty, Coimbatore.
To put things in perspective, the Netherlands is the biggest exporter of roses, with a global market share of about 50 percent, followed by Colombia. The country exports around 500 million flowers to the US during Valentine's Day, Reuters had quoted the Colombia Flower Growers Association as saying in February 2015. The Netherlands exported cut flowers worth $3.16 billion in 2015, according to the US FDA.
Valentine's Day 2017: Spice up your sex life by including these five foods into your diet
Domestic sale of rose stems
Business is expected to be better this year, according to Vijay Kulkarni, general manager at International Flower Auction Bangalore. "In 2016, between February 9 and 13, we auctioned about 15 lakh stems and this year, we expect to sell about 18 lakh. The daily auction is about 2.5 to 3.5 lakh stems everyday," he told IBTimes India. On other days, about 1 to 1.5 lakh stems arrive from auction, Kulkarni added.
The price for the end customer doubles on Valentine's Day. "We are selling a rose stem for Rs 10 now and on February 14, it will be sold at Rs 20," a flower-seller in Bengaluru said.
Prominent varieties
The most sought-after variety in rose stems is "Taj Mahal", both among domestic buyers and in the overseas market, because of its bud size and shelf life (4 to 5 days), according to Kulkarni. Carnation is another Indian variety that comes in white and yellow and is popular in some European countries.
While rose stems average about 30 cm in the domestic market, it goes up to as high as 60 cm overseas, according to Kulkarni.
Flower exports from Bengaluru airport stood at 300.5 metric tonnes between February 1 and 15, 2016, according to a spokesperson for the Bangalore International Airport Ltd. "The consignments mostly arrive from Bengaluru, Ooty, Krishnagiri and are exported both in cargo and passenger flights," the spokesperson said.
Protests on Valentine's Day
Organisations such as the Shiv Sena and Bajrang Dal voice their opposition to Valentine's Day celebrations in India, calling it an imitation of Western culture but scaled down its protests last year. "Shiv Sena is against western culture and we have communicated our message during past years. We are not going to assault any couple," Anil Singh, UP head of the Shiv Sena was quoted as saying by the Indian Express on February 10, 2016.
Earlier, workers of the two outfits used to not only harass young couples but also vandalise shops merchandise such as flowers, greeting cards.