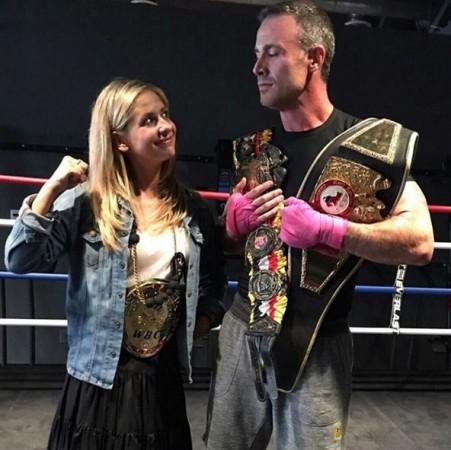 Valentine's Day is the one day every romantic can shamelessly be as cheesy as s/he wants to be. It is the day to adore love and those in love, root for your OTPs and openly declare how much you love being in love.
In celebration of Valentine's Day 2016, take a look at some of the cutest couples in Hollywood. All of these pairs have reinstated our belief in love and proved that despite the spotlight, paparazzi and busy schedule, you can make relationships work.
Brad Pitt and Angelina Jolie Pitt: This power-couple fell in love with each other on the sets of "Mr. and Mrs. Smith." Although their relationship started amid controversies and cheating scandals, after a decade and six children together, all the haters have fallen in love with this couple. Their love is so addictive, they became the first Hollywood couple to get a portmanteau name - Brangelina.
George Clooney and Amal Clooney (née Alamuddin): The silver fox of Hollywood had convinced everyone that he would never get married after his first failed marriage. However, Clooney surprised everyone by proposing to the world-famous human rights lawyer Amal Clooney. The entire world had gone crazy about the couple's wedding in September 2014.
Sarah Michelle Gellar and Freddie Prinze Jr.: Everyone that grew up in the 1990s is obsessed with this low-key couple who met on the sets of "I Know What You Did Last Summer." The couple wed in September 2002, just as a 4.6 magnitude earthquake shook their wedding venue. The "Scooby-Doo" stars have two children together: daughter Charlotte Grace Prinze and son Rocky James Prinze.
Ellen DeGeneres and Portia de Rossi: Ellen is a beloved celebrity all over the world and her fans love that she is obviously deliriously happy with her wife Portia de Rossi. Both Ellen and Portia have admitted that it was love at first sight for both of them, and their relationship has definitely been an amazing journey for the fans to watch.
Seth Green and Clare Grant: Best known as the king and queen of Comic-Cons, Seth Green and Clare Grant are the couple that makes every geek heart go boom. They always promote each other's work on social media and declare their undying love every chance they get.
John Krasinski and Emily Blunt: This great-looking couple is so adorable that they make their fans fall in love with love every time they are in public together. We also know they are fun, thanks to the Christmas prank war with Jimmy Kimmel. Moreover, John and Emily name-drop the other in almost every interview, and just how cute is this following video?
Sarah Jessica Parker and Matthew Broderick: Both of these actors have illustrious careers and have still managed to stay together happily in tinsel town. Parker and Broderick have been married since May 1997 and have since produced three beautiful children -- a son James and twin daughters Marion and Tabitha.
Will Smith and Jada Pinkett Smith: This Hollywood power-couple are the pride of everyone who believes in love. They have been married since 1997 and have been fighting off divorce rumours for a really long time now. They are still as glorious together as ever with three kids by their side (oldest, Trey, was born to Smith's first wife Sheree Zampino) as the paparazzi first spotted them canoodling.
Neil Patrick Harris and David Burtka: The "How I Met Your Mother" star and his husband David Burtka started dating in 2004 and had two beautiful children via surrogacy in August 2010. They got married in 2014 in Italy, where "HMIYM" director Pamela Fryman officiated the wedding and Elton John performed at the reception. This family has an obsessive fan-following that look forward to seeing their fun shenanigans during the holidays.