Sending a bonbon box created with all the interesting combinations could be the perfect gift for your sweetheart on this Valentine's Day. Internet giant Google lets you to make a candy box for your beloved ones on this day of romance.
The latest interactive and exhilarating doodle on the search engine's home page featured a guy in the place of fist 'O' of the company's official logo and a girl in the place of its second 'G'. In the place of the second 'O' of the Google logo, there is a heart-shaped box with clickable button.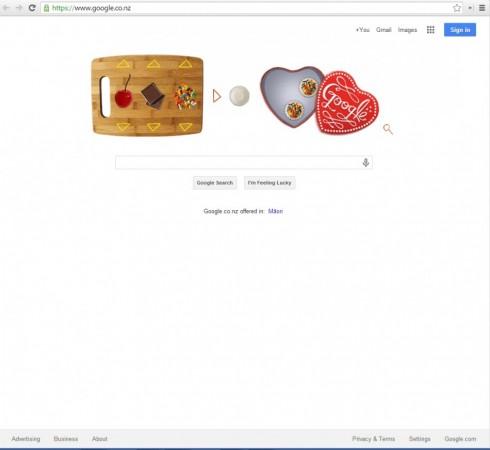 Here awaits the surprise! A click on this love button will take the user to a wonderful kitchen room where you can make three chocolates for your sweetheart with different combinations of ingredients. Google offers the users 13 ingredients to choose from including milk, dark and white chocolates, sprinklers, gummy bears, toffees, almonds, strawberries, cherries and walnuts. Interestingly, there are ants also as ingredients.
Once the chocolates are made, it gets beautifully wrapped in a red heart-shaped box with the Google letters on it. The users can send the chocolates box to their dear ones through Google+, Twitter or Facebook.
Love day or Valentine's Day is celebrated across the world on 14 February. Going back to the history of romance day, it is originally the birth anniversary of Saint Valentine.
On Tuesday, Google had celebrated the 135th birth anniversary of India's Nightingale Sarojini Naidu with an interesting doodle.