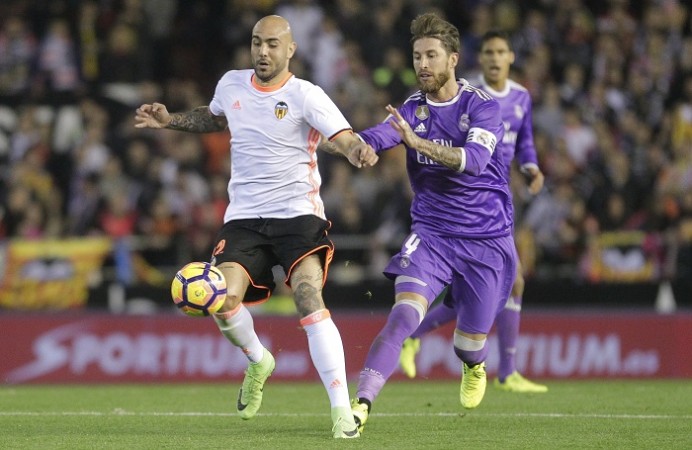 La Liga table-toppers Real Madrid were stunned by Valencia in an exciting encounter as the Los Blancos lost 1-2 on Wednesday. Despite their loss, Real Madrid maintain their one-point lead at the top with a game in hand, but they must be utterly disappointed with the defeat against the 15th side in the domestic league.
Real Madrid to offer Karim Benzema a new contract?
Coming into the game as second favourites against a strong Real unit, Valencia, who had defeated Athletic Bilbao in their last match, started on a bright note. Italian Simone Zaza proved his class with a sensational opening goal in the fourth minute. He scored that sublime goal when he was not even looking towards the goal, and the Real goalkeeper looked helpless.
The home team got immense confidence with that goal, and the crowd were behind their back with every move. Just five minutes later, Valencia scored another brilliant team goal with Fabian Orellana finding the back of the net, and the voices in the stands grew louder and louder.
After a two-goal lead, Valencia knew that Real would come down hard at them, and they did so. Real's talismanic forward Cristiano Ronaldo scored a brilliant header just before the first half whistle. With Real finishing the first 45 minutes on a positive note, one expected the visitors to come strong in the second half.
Despite dominating possession in Valencia's half, Real were not able to make much impact on the final third, and with that in view, manager Zinedine Zidane brought Gareth Bale in the 62nd minute. It seemed to be a game, which Valencia were destined to win as Real players were not able to score the goal even when a chance came by in the final 20 minutes.
"The truth is we lost the game in the first 10 minutes. We started well with the ball, playing football, had a chance to score. But we made mistakes at the back, they had players between the lines all the time, and they scored two goals," espn.in quoted Zidane as saying.
"We were very open, and they punished us. Then we had 80 minutes to come back into the game. We had chances to do that, but we lacked many things today. There was a chance to pick up points, which we did not do."
You can watch all the goals highlights HERE