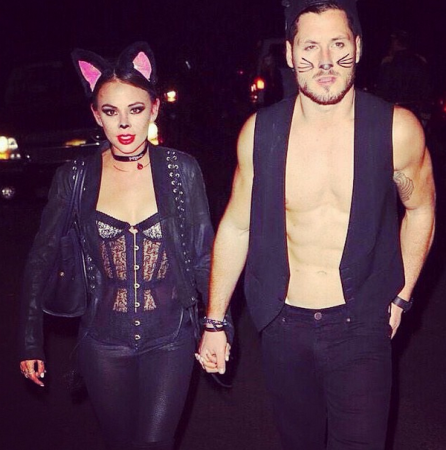 Despite Janel Parrish and her "Dancing with the Stars" partner Val Chmerkovskiy denying dating rumours, talks of their alleged romance continue to make headlines, and the latest claim is that the pair is casually dating.
Parrish and Chmerkovskiy are currently said to be enjoying each other's company, but it remains to be seen if their relationship will last post "Dancing with the Stars" season 19.
"They are hooking up and casually dating," a source told HollywoodLife. "Nothing serious but they are super into each other and are just taking the time to enjoy each other's company!"
Parrish and Chmerkovskiy sparked romance rumours right at the beginning of season 19 of the dancing reality show when they were spotted kissing backstage. The "Pretty Little Liars" actress was even heard saying "I love you" to her dancing partner. Parrish's break up with her boyfriend Payson Lewis a few weeks later only aided romance rumours.
Neither Parrish nor Chmerkovskiy have admitted to them being an item, but the professional dancer did hint that he had feelings for his partner.
"What is my relationship with Janel? Is there an attraction between us two? I don't know. I think nature just made things work that way. She's my partner, she's my friend, I want to see her do well. Whatever feelings I have for Janel, it can't be phrased in a bite. I'm sorry, America. Stay tuned," the dance pro said during a video recap of rehearsals.
But that hasn't stopped Chmerkovskiy and Parrish from posting online pictures of them having a good time together. Their Instagram account are filled with pictures showing the pair hanging out and having a good time. Many shots even show them holding hands.
Meanwhile, Monday saw them essaying the character of star-crossed lovers Romeo and Juliet, and in her blog for People magazine, Parrish noted that the routine has ended up being one of her favourites so far.
"It's dynamic duo week and we're playing Romeo and Juliet, so it's going to be beautiful and romantic. I'm very excited. The song is 'Everybody's Free (To Feel Good),' and it's a song from the movie adaptation Romeo + Juliet.
"I'm really looking forward to our contemporary piece. I'm going to love dancing it with Val, and I think it's going to end up being my favorite one so far!"