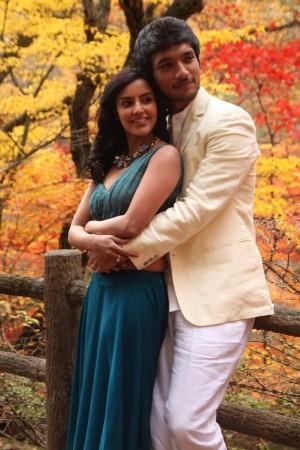 The music of the upcoming movie, "Vai Raja Vai", has opened to positive reviews. The film, which is written and directed by Aishwarya R Dhanush, has Gautham Karthik and Priya Anand in the lead roles.
The music of the film is composed by Yuvan Shankar Raja and the album has a total of five songs. The songs of the film are sung by Yuvan, Gana Bala, Tanvi Shah, Hip Hop Tamizha and Ilaiyaraja. The lyrics are written by Gana Bala, Madhan Karky, Hip Hop Tamizha and Dhanush.
"Vai Raja Vai" is produced by AGS Entertainment.
Here are the reviews of "Vai Raja Vai" music by various critics:
"Vandha Kadha" - Singers: Gana Bala; Lyrics: Gana Bala
"The 'Gaana Bala' formula has been a winner, always. The screechy violin, localized lyrics and rhythm programming delivers a catchy track" – Behindwoods
"An excellent track to start the album with. Who better thab Yuvan perfectly embodies a Kuthu track with western beats? The song has chartbuster written all over it propelled by Gaana Bala's splendind, punchy rendition" – Onlykollywood
"Pachchai Vanna" - Singers: Yuvan Shanakar Raja; Lyrics: Madhan Karky
The classic Yuvan type melody is back. His ever emoting voice is a huge plus. The noticeable bass lines and loops are noteworthy experimentation. Yuvan's fans will love this. – Behindwoods
"This track is vintage Yuvan with a superbly melodious tune, particularly as teh track progresses. An instant earworm. OUR PICK – OnlyKollywood
"Pookkamazh" - Singers: Tanvi Shah, Yuvan Shankar Raja; Lyrics: Madhan Karky
"Yuvan's favourite Tanvi and her international voice blendS with this foot-tapping song. The non-lexical filling part of the lyrics sets the pace. The harmonium instrumentation in the first BGM is Yuvan's magic back in action." – Behindwoods
"The reputation of Tanvi Shah – Yuvan Combo is absolutely kept intact. A gorgeous, toppingly foot - tapping tune which brings out the best of Yuvan. Tanvi Shah's zippy rendition is bolstered by Yuvan's rhythmic vocals. Handsdown, Tanvi Shah is ebullience personified. KICKASS is the word. OUR PICK" – OnlyKollywood
"Naam Vaazhndhidum" - Singers: Hip Hop Tamizha, Yuvan Shanakar Raja; Lyrics: Hip Hop Tamizha
"Cello strokes and Aadhi's killer lyrics for a desi, hip-hop number. If it's a montage' song, the composing is a hit already. Vocals do the magic. The 'Vai raja vai' portion is instantly beguiling. The EDM flavor comprehends the tone progression." – Behindwoods
"Another sparkling track with a pulsating tune, executed to brilliant perfection. Hiphop Tamizha's passionate rendition with Yuvan's impressive vocals makes this an excellent listen. Our PICK!' – OnlyKollywood
"Move Your Body" - Singers: Ilaiyraaja; Lyrics: Dhanush
"Ilayaraja's idiosyncratic characteristic voice and the party-mix can make this song an addictive number. The improvisations in the interludes might take some time to catch up, but this number will have its run at the pubs. " – Behindwoods
"The most anticipated song in the album and probably, the lease impactful too, A redundant Tune where the silver – lining is Ilaiyaraja's enjoyable singing" – OnlyKollywood