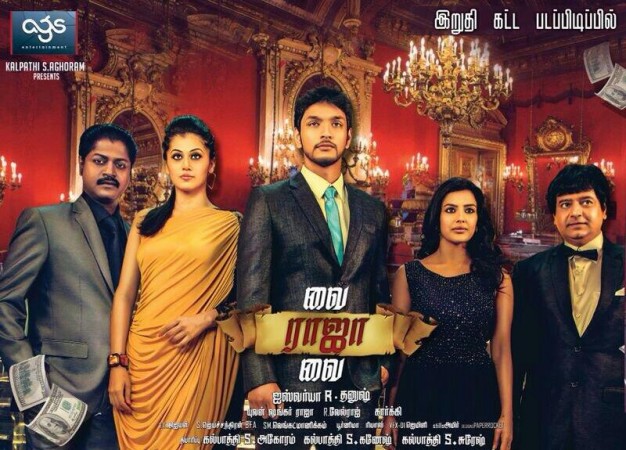 "Vai Raja Vai" directed by Aishwarya R Dhanush has opened to positive reviews from critics. The movie, which stars Gautham Karthik and Priya Anand in the lead, has been appreciated for its narrative quality and technical aspects.
Most of the reviewers have rated "Vai Raja Vai" as a 'good entertainer'. While the first half of the movie keeps the audience thrilled, the second half reportedly is not that impressive, though the entry of Dhanush as Kokki Kumar at the climax makes up for it.
Performance of the actors, duration of the movie which is less than 2 hours, cinematography and the music of the film are seen as major positives of this entertainer.
The reviews have ensured that "Vai Raja Vai" gets a good opening at the box office. The absence of Kamal Haasan's "Uttama Villain" in theatres on the releasing day has also helped the movie to have a good run at the box office.
Here are the reviews of "Vai Raja Vai" by critics:
On the sunny side, screenplay is taut. At two hours, this movie keeps you glued to your seat and it is one experience, you won't regret. Yuvan's music is on the rocks; his notes impress the best in the minimal yet striking BGM. Though dubbing and lip movements overlap painfully different from one another, overall sound quality is maintained well. VT Vijayan has done a tremendous job at putting these pieces together; if only, the surprise wasn't broken in trailer already, it would have impacted even better.
With an eye popping star cast, Vai Raja Vai surely drew heavy attention. Justifying the excitement, all the central actors deliver well.
Gautham Karthik gets to play an average human with an extraordinary feature. Unlike his earlier hyperactive characters, the son of Navarasa Nayagan keeps a straight face throughout, which mostly goes well with his character description.
Priya Anand, who plays his girlfriend, is surely an eye candy. Her presence adds an extra color to the film. Vivekh has better scopes to score than Satish, but both have their moments in the movie. Vivekh's combinations with Manobala tickle hard. Vasanth, Sri Ranjini and Gayathri Raghuram as Gautham Karthik's father, mother and sister respectively and Daniel Balaji, as the greedy being with an access to a golden duck are Vai Raja Vai's massive strengths.
Coming to the powerful cameos, Taapsee is elegant, attractive and spot on. SJ Suryah surprises and kindles chuckles, but is an expendable. But, how do we phrase Dhanush's appearance in the film? Allow us to do it as short, cool and powerful as his role – "Semma Kalaai".
Aishwarya – She has made MR.Rajnikanth and Dhanush really proud is all I have to say. She took a two year break, she decided and settled on a nice script and came back powerfully. He execution was a neat and crisp to the point, if there were negatives to this movie. I would say that the songs were placed wrongly, without the songs it would have looked even more crispier. A proud moment for the lady indeed
Vai Raja Vai can be crowned king. A feel good entertainer for you to enjoy this week.
Aishwarya Dhanush Smartly packages the first half witjh fun and expense. Although it looks easy to connect ESP power with predicting a cricket match, it needs to be convincingly brought on screen, which she manages to do perfectly. The first half ends on an intriguing note, leaving audience to anticipate how the movie would unfold further.
However, the second half is a complete let down. Except for Dhanus's screen presen ce in the climax, there is no high point in the latter half of the film.