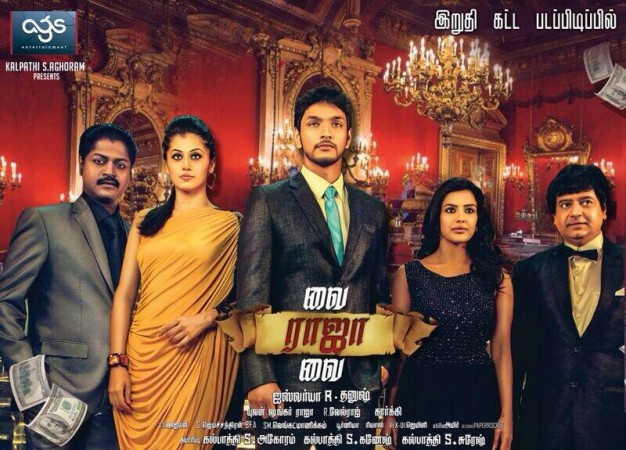 "Vai Raja Vai" directed by Aishwarya R Dhanush is all set to be released on 1 May. Though the movie starring Gautham Karthik and Piya Anand in the lead will be released on the same day as Kamal Haasan's magnum opus "Uttama Villain", industry analysts believe that "Vai Raja Vai" will do well and emerge as a winner at the box office.
"Vai Raja Vai" is touted to be a romantic thriller, which fits well as a summer release.
Here we are listing five reasons, which we believe will help "Vai Raja Vai" do well at the box office:
"Vai Raja Vai" is Aishwarya's second directorial attempt after the critically acclaimed "3". The trailer of the upcoming indicates the young director has moved a step further when it comes to a commercial entertainer. She has already said that the film is completely different from her last flick, as it does not deal with serious issues. The movie is touted to be a breezy one and therefore likely to appeal to all kinds of movie buffs.
The music of Yuvan Shankar Raja has already created a good buzz, and the trailer of the film gives one a feeling that Yuvan has come up with an extremely energetic background score. The makers of the film have said that the music of the film will be unique for a Tamil cinema.
The album has five tracks lyrics for which have been written by Gana Bala, Madhan Karky, Hiphop Tamizha and Dhanush.
One aspect that was evident throughout the trailer of "Vai Raja Vai" was that each frame of the film is stylish. The film can be called a perfect summer release with its colour tone and magnificence.
It looked liked cinematographer Velraj has added all cinematographic elements in the film, which complete the visual appeal of the flick. "Vai Raja Vai" has been shot extensively in Chennai, Singapore, Thailand and Vietnam.
Another impressive aspect of the film is its star cast, which includes Gautham Karthik, Priya Anand, Vivek, Taapsee Pannu, Daniel Balaji, Sathish, Vasanthan, Gaythri Raghuram, Sriranjini, Boss Venkat, MS Bhaskar, Manobala, Mayilswamy and Swaminathan.
Cameo appearance of Dhanush
The trailer gives a reason for Dhanush fans to celebrate, as he will make a guest appearance as Kokki Kumar, a character which he portrayed in the 2006 movie "Pudhupettai". The director of the movie, who is also Dhanush's wife said that Kokki Kumar is one of her favourite roles played by Dhanush till date, and assured the audience that Dhanush will come up with an equally good performance in this film also.