Simbu's much-delayed "Vaalu" has opened to fairly positive reviews from the audience. The highlight of the movie is Simbu-Santhanam's chemistry, which breaks the funny bones of the audience with hilarious one-liners.
Take at Look at 'Vaalu' Memes | VSOP Movie Review
Story:
Like in many of the new-age Tamil romantic films, hero Sharp aka Vaalu (Simbu) is jobless but leads a life without any insecurities. He comes across Priya (Hansika Motwani) and immediately falls in love. She too starts liking him. But the only hurdle is her uncle Anbu (Aditya), powerful businessman, who wants to marry her. How the hero faces the situation and succeeds in his mission form the crux of the story.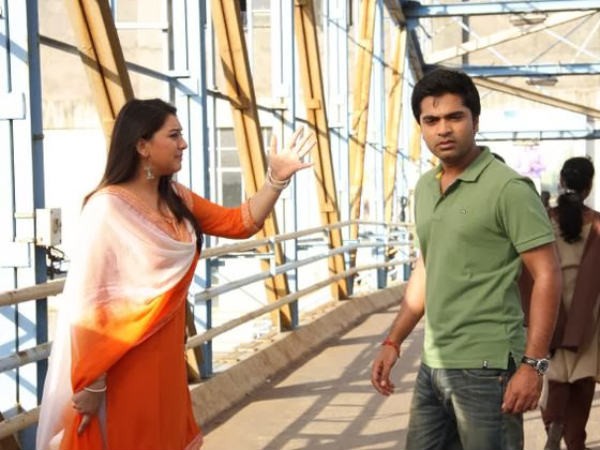 Reviews:
The movie has a regular story and comes out without any twist or turn. The plain narration has not go well with all section of audience. However, the film does not disappoint the audience as there are good comedy scenes. Santhanam and Simbu's performance are the biggest strength of the flick. Below, we bring you the live audience response to the film:
Rajasekar Wrote
Ha..ha a superb introduction - gonna be treat for Thala Thalapathi fans! #Vaalu - rest later :)
#Vaalu - @iam_str's one man show . His comic chemistry with @iamsanthanam and screen presence make it bearable. Strictly for STR fans!
#Vaalu - @editorsuresh cuts make it racy, @MusicThaman 's music and @iam_str dance - major plus. Three years delay is very much evident!
@VijayVimal55 not afraid. It's long time since @iam_str film comes on big screen. Don't wanna ruin it being critical @iamsanthanam
Kaushik LM Posted
#Vaalu 1st half - Regular blend of comedy, sentiment, romance & some action. #Simbu #Santhanam drive the film with their vibes & chemistry.
#Vaalu makes no big bones about delivering anything different or epic. It is a quintessential commercial film handled safely, with some fun
#Vaalu Thaarumaaru song plus. #Simbu looked authentic as EngaVeetuPillai #MGR, Baba Baasha #Rajini, Mankatha Veeram #Ajith & Manmadhan #STR
#Vaalu - Overall watchable. Nothing new but has some good moments of comedy, romance and sharp dialogues. Some needless action but .. OK
A watchable commercial film driven by the #Simbu - #Santhanam duo. My #Vaalu movie review - 2.5 / 5
Average Ratings Given by Audience: 2.5
Kannan Wrote
#Vaalu - Nice commercial entertainer with simple plot & casual outlook, slowly picked up and good fun 4 most parts. Watchable! (7/10)
#Vaalu - STR's finally back on screen as 'Sharp' & entertains with Santhanam and Ganesh! Hansika & supporting cast did their job well.
#Vaalu - Thaman's foot tapping songs & nice picturization are plus esp. STR nailed it in #Thaarumaaru song with diff getups & his own stamp!
#Vaalu - Debutant director Vijay Chander has packaged it with enough action, senti & comedy to engage with dialogues as the highlight!!
Pradeep Raj Posted
#Vaalu - STR speaks his first dialogue wearing #Thala Mask.. Audience roars @ Kasi theater
#Thaarumaru song in #Vaalu is just Thaarumaru & you will enjoy this song which is a tribute to MGR, @superstarrajini & #Ajith - #Hansika
Mad_jockey Wrote
Simbu and Hansika's combo works bigtime #Vaalu
The story is entertaining and a routine stuff. #Vaalu
My rating: 3/5
Cine Shore Tweeted
#Vaalu Movie Started @iam_str Back In Action " Ith Semma Punch Machiiii "
KashayamWithBosskey Posted
#Vaalu it took half an hour for the roar to settle down...
Terrific half an hour .
This one for both Thala and str fans.
Sujith Tweeted
#Vaalu is now not just a word ! It is really an EMOTION :)
Vinodvarma Wrote
#vaalu is a great movie,great performance by @ihansika ill fall in love ₩ith her character.Cutiee ₩id acting skills dangerous combination.
Tamil Cinema Posted
We Don't Think Any Actor's Fan Can Give As Much Tribute To His Star As @iam_str Has Given For Ajith. No Wonder Ajith Fans Support STR #Vaalu
Nazrudheenappu Wrote
Fact is #Vaalu Director Vijay chandar is Die Hard Thala veriyan he proved in every scene
@nazrudheenappu
Ramesh Posted
#Vaalu : This is the closest #Thala movie in which #Thala has not starred.. So many #Thala elements and references.. A feast for #Thala fans
#Vaalu [3/5]: Good job by 1st time Dir @vijayfilmaker - Excellent dialogues, Father-son sentiments & keeping the fans happy with Mass Scenes
#Vaalu [3/5]: @MusicThaman 's songs and BGM are huge assets to the movie.. @editorsuresh has done his best to keep the flow going.
#Vaalu [3/5]: @iamsanthanam keeps us entertained.. He knows his limits when @iam_str is around.. So he correctly keeps the meter in-tact..
#Vaalu [3/5]: @ihansika looks good and delivers what is expected of her.. She has lot of scope for acting in the 2nd half.. dances well..
#Vaalu [3/5]: @iam_str as #Sharp is Very sharp.. He rocks big time in delivering punches, comedy, romance, dance etc., He is bk with a bang!
#Vaalu [3/5]: A youthful, fun entertainer that has all the right ingredients : Mass Scenes, Comedy, Romance, Action and Family Sentiments..
Shiv12_Simbu Posted
The story is simple and entertainig. #Vaalu
Simbu fans should not miss dis romantic film. #Vaalu
Easily one-time wathcable film. 3.25/5