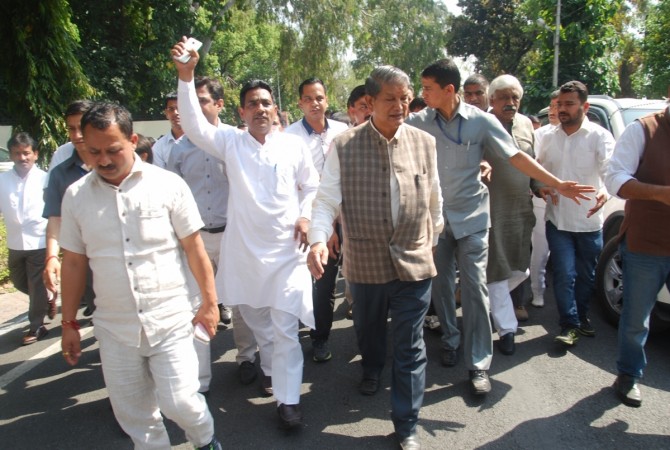 Adding to the ongoing political crisis in Uttarakhand, two Congress MLAs alleged on Tuesday that the Bharatiya Janata Party (BJP) tried luring them with money, Rajya Sabha seats and other offers. The BJP's state unit has denied the allegations levelled against them by the Congress.
President's rule was imposed in Uttarakhand on March 27, 2016, after nine Congress MLAs rebelled to join the BJP. The Nainital High Court had scheduled a floor test to take place in March in the Legislative Assembly. However, the Centre imposed President's rule before the floor test could take place. Since then the issue has been heard in the state high court, which removed president's rule recently. The Centre then contested the high court decree in the Supreme Court. The Supreme Court will be hearing the Centre's plea against the Nainital High Court order on Wednesday.
Congress MLAs Rajendra Bhandari and Jeet Ram alleged on Tuesday that the BJP has offered them Rs. 50 crore to defect to their party. They are reportedly close to BJP leader Satpal Maharaj, but have clarified that their relationship is "personal."
"All sorts of lucrative offers, including cash up to Rs 50 crore, ticket for a family member in the assembly elections and a Rajya Sabha seat, are being made to us by the BJP," the duo was quoted as saying by the Times of India.
"The offer started from Rs 2.5 crore, went up to Rs 5 crore and then Rs 10 crore, with the latest being Rs 50 crore. We may be close to Satpal Maharaj but they are personal relations. No one can purchase us," Bhandari told the newspaper.
The BJP in response attacked the Congress accusing them of corruption and asked the MLAs to prove the claims.
The Uttarakhand Congress chief has confirmed to the newspaper that the BJP offered seven Congress MLAs Rajya Sabha seats.
"They offered a Rajya Sabha seat to all of them. There are only three such seats in the state so I fail to understand how the offer works," he told TOI.