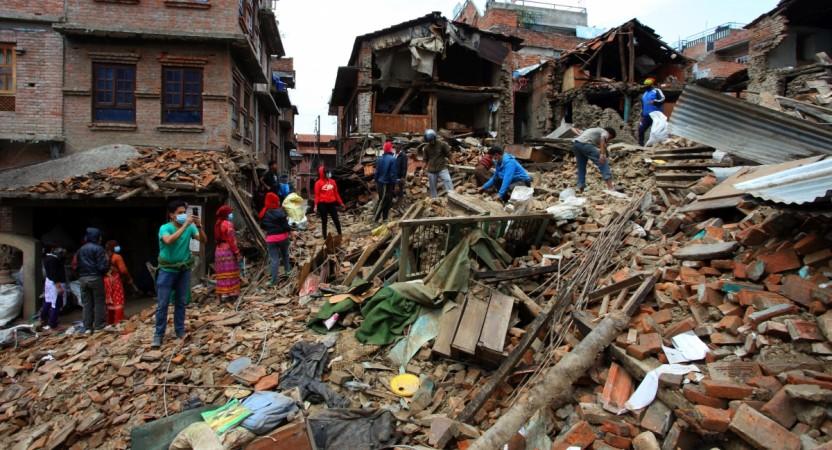 The geologists from Bengaluru's Jawaharlal Nehru Centre for Advanced Scientific Research have published their study indicating a deadly earthquake in Uttarakhand, similar to the recent one in Nepal that has killed over 7,000 people.
The authors of the study that was published in March this year had earlier warned about "a great earthquake" that Nepal witnessed recently. A devastating earthquake measuring 7.9 on Richter Scale rattled the Himalayan nation on 25 April causing heavy damage to lives and properties.
The geologists fear that a similar quake may jolt Uttarakhand as the layers of soil and rock beneath the state in the western Himalayan region has witnessed "abrupt strike-normal increases in channel steepness and 10-fold increase in erosion rates," according to an IANS report.
"The landscape and erosion rate patterns suggest that the décollement beneath Uttarakhand provides a sufficiently large and coherent fault segment capable of hosting a great earthquake," said geologist and author of the study CP Rajendran and his colleagues from the Bengaluru-based research centre
According to their study, the seismic gap underneath Uttarakhand has expanded approximately 700-km, which the geologists said was sufficient enough to trigger another deadly earthquake.
"The (approximately) 700-km-long 'central seismic gap' is the most prominent segment of the Himalayan front not to have ruptured in a major earthquake during the last 200-500 years. This prolonged seismic quiescence has led to the proposition that this region, with a population of more than 10 million, is overdue for a great earthquake," the study said.
The geologists said that their theory "remains speculative," but the research is "supported by independent records of historical seismicity."
The Nepal quake and over 60 aftershocks that has continued to hit the Himalayan nation even until 3 May, have shattered the entire nation as several people lost their lives, while hundreds of them are left in the open as their houses have turned into rubble.