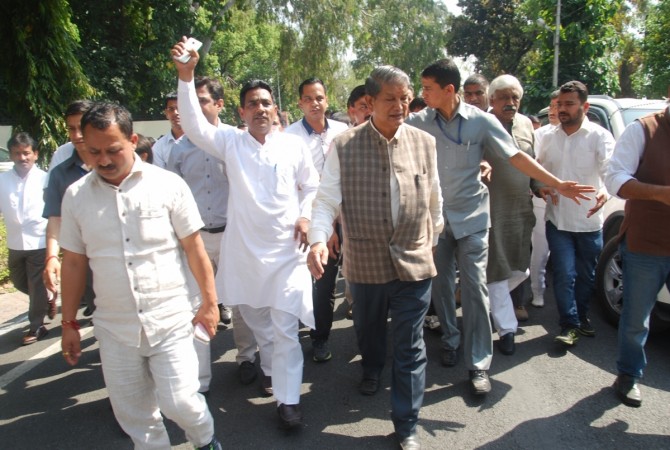 The Nainital High Court on Thursday reportedly quashed the President's rule imposed in Uttarakhand last month following a recommendation of the central government. It also allowed ousted Chief Minister Harish Rawat to prove his majority in the floor test on April 29.
The court also disqualified the nine Congress legislators who rebelled against the Rawat-government. The dissident MLAs had joined the BJP after defecting from the Congress.
"Proclamation (of the central government to impose President's rule) stands quashed....Elected state government will revive...Petition must succeed. The status quo of State government is restored ...The government would under go floor test on April 29," the Indian Express quoted a bench of Chief Justice KM Joseph and Justice VK Bist said.
While ruling against the President's rule, the high court said, "Article 356 was imposed in Uttarakhand contrary to law laid down by Supreme Court," according to the Press Trust of India.
President Pranab Mukherjee had last month signed the proclamation under Article 356 of the Constitution, accepting the Centre's proposal. The decision was taken after Congress legislators' rebellion resulted in a political turmoil in the state.
The Centre approached the high court seeking a stay on latter's order to revoke President's rule in the state. "We won't stay our own judgement. You can go to Supreme Court and get it stayed," the court said in response to the plea, the Hindu reported.
While the BJP is confident that the Congress will fail the floor test, Rawat called upon the central government for cooperation in Uttarakhand. "The Harish Rawat government in Uttarakhand is in minority and this will be proved on April 29," PTI quoted BJP General Secretary Kailash Vijayvargiya as saying.
We want Centre to cooperate with the state government and forget developments of recent past. We don't want to fight; they are powerful, mighty with broad chest; I would request Centre to work in the spirit of cooperative federalism," Rawat said.
During the hearing earlier on Thursday, the high court observed that the Centre should act impartially, but it is instead behaving like a "private party."
"You can do this in every state. Impose President's Rule for 10-15 days and then ask someone else to take oath. More than angry, we are pained that you are behaving like this. That the highest authority - Government of India - behaves like this. How can you think of playing with the court," PTI quoted the bench as saying.
"What if we allow the petition? Then things would go back to what it was prior to the President's Rule and the state government will only have to prove majority by way of floor test. Can you take exception to that also?" the bench asked the Centre.
9 dissident Congress MLAs have to pay the price of committing "Constitutional sin" of defection by being disqualified: HC.

— Press Trust of India (@PTI_News) April 21, 2016
We don't want to fight; they are powerful, mighty with broad chest; I would request Centre to work in the spirit of cooperative federalism: — Press Trust of India (@PTI_News) April 21, 2016
We want Centre to cooperate with the state government and forget developments of recent past: Rawat.

— Press Trust of India (@PTI_News) April 21, 2016
The Harish Rawat government in Uttarakhand is in minority and this will be proved on April 29: BJP. — Press Trust of India (@PTI_News) April 21, 2016