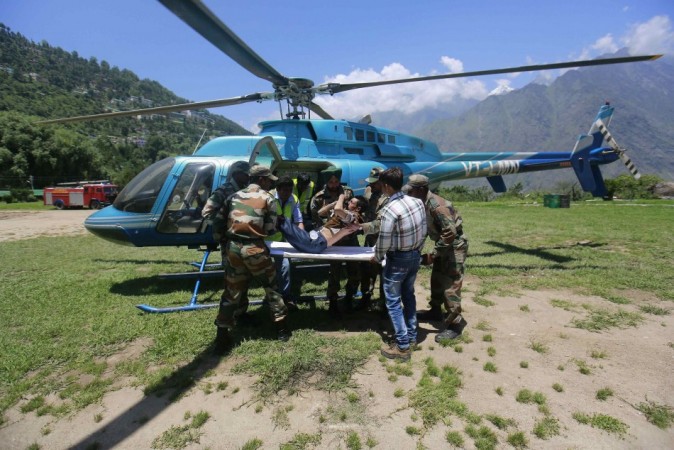 As rescue operations in Uttarakhand continue to face hurdles in the face of rough weather, Congress VP Rahul Gandhi's arrangements to the flood-ravaged state is being made.
Rahul Gandhi is set to go an aerial survey and is expected to meet the flood-affected victims during the tour. He along with Congress chief Sonia Gandhi flagged off a cordon of trucks carrying food supplies on Monday.
After the trucks left, Minister of Road Transport and Highways Oscar Fernandes told reporters from AICC Headquarters in Delhi, "We are working (for relief and rescue) under his (Rahul's) inspiration and Sonia Gandhi's leadership."
Meanwhile, bad weather continued to cause hindrance in rescue operations as rain and minor landslides continued. Around 15,000 people are believed to be stranded.
Indian Air Force (IAF) rescue operations continued in the Harsil-Dharsau and Rampur-LKarchampur-Sangla areas. CNN-IBN reported that IAF has "six MI-17s and one ALH have flown over 52 sorties airlifting 430 people since Monday morning up to 12:30 pm and are continuing."
"Our helicopter rotors will not stop churning till such time we get each one of you out. Hang in there, don't lose hope," said the IAF.
Meanwhile, there were reports of theft and robberies of cash and gold from the flood-hit areas. Garhwal Commissioner Subardhan told PTI, "We will frisk only the suspect people once they land at rescue centres as there are reports of theft of jewellery, cash and other valuables. But this will be done without causing any trouble to the people."
Survivor's Account
Press Trust of India recorded one horrific experience of a flood survivor.
For 36-year-old Vijender Singh Negi it was an experience unforgettable as he clung to the temple bell for nine hours standing atop corpses in strewn clothes.
"He stood hanging from the temple bell from 7 am to 4 pm, the day after the disaster struck. He stood on corpses to balance himself. His clothes had been torn to pieces by the water's fury but he somehow withstood the force hoping to come out alive," said Negi's brother-in-law Ganga Singh Bhandari.
Bhandari said Negi owned a hotel beside the Kedrinath shrine. "My brother-in-law (Negi) jumped off from the roof of our three-storied hotel into the water, before finding shelter in the temple. He saw hundreds of corpses floating inside," he said.
"He has big ulcers on his hands. Not only the nine hours proved excruciating, he battled to stable himself hanging from the temple bell as the water's force tore his clothes apart rendering him in a state of nature.
"As he held on to the bell for hours, his grip began to lose. Dead bodies were floating besides him. So, to gain balance he stepped on to floating bodies to withstand the testing hours.
"As his clothes were torn to pieces, he took clothes from the bodies around him to shield his almost naked body. The thought of it still sends shivers down his spine.
"After the level went down he climbed out of the waters and lay in the jungle for two days before the army helicopters rescued him.
"His family in Tehri could not stop crying when they saw him alive. He has little children. It was god's grace that he returned from the jaws of death," concluded Bhandari.