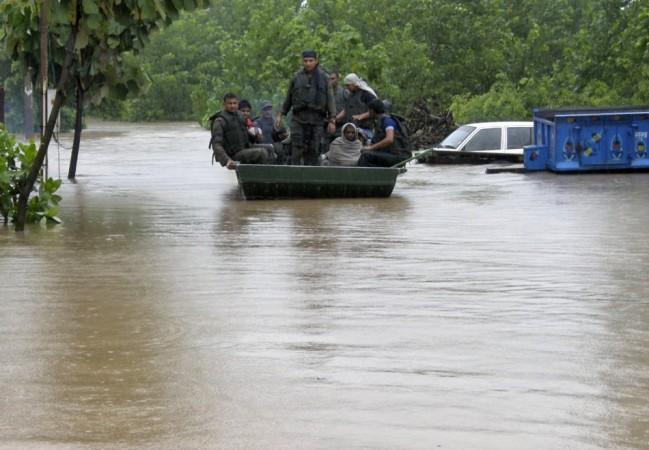 Torrential rains in the past 72 hours along with floods and cloudbursts have added to the woes in Uttarakhand, taking 60 lives and recording over 50 people missing.
More than ten thousand pilgrims visiting Char Dhams were reportedly stranded as major roads were washed away and gave into landslides.
According to officials, more than 5,000 people were stranded in Uttarkashi, 1,000 in Joshimath, 10,000 in Govindghat, more than 10,000 in Badrinath and 6,000 in Ghaghria.
With the television grabs reporting Ganga overflowing to the extent of engulfing the Landmark Lord Shiva statue, the state government directed authorities to barricade the routes to Rishikesh and curtail the approaching pilgrims and tourists.
Army troops were pressed into rescue operations and providing food relief. Twelve disaster management teams were put to work and 14 Indian Army choppers have been set for rescue and relief operations.
With the overflowing of Mandakini river, the worst affected were Rudraprayag and Uttarkashi districts. The bridge atop Alakannda river was seen giving into the mighty flow of the river flowing at dangerous level.
Several heavy weight trucks, bulldozers and vehicles were carried away by the strong currents in Uttarakshi district. Highway routes like Rishikesh-Mana and Haridwar-Mana were cordoned off after massive landslides lead to road collapse, upturning vehicles and killing several people.
Meanwhile, the Indian Metrological Department predicted continuous shower in the next 72 hours in the state. The National Disaster Response Force (NDRF) was alerted as the situation is likely to worsen further.
In Himachal Pradesh, which witnessed 11 deaths till now, the condition is no better as more than 50 houses have collapsed and communication breakage was reported due to landslides.
Five members of a family, including children, were reportedly killed when boulders crushed their house.