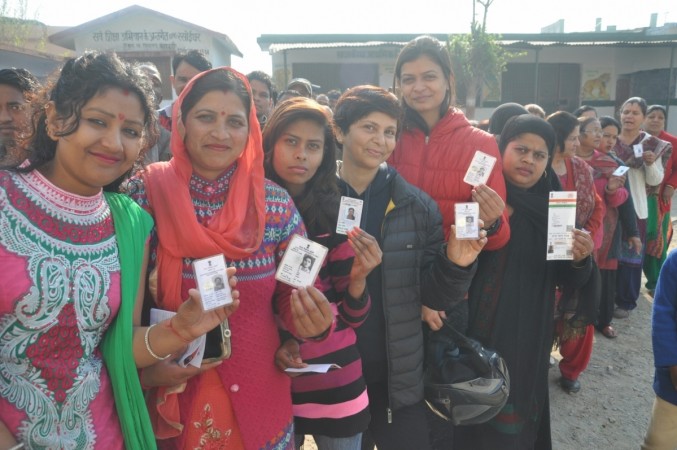 Need to know:
CM Harish Rawat loses both seats.
BJP sweeps the hill state.
CM Harish Rawat to tender in resignation.
Here are the live updates:

7:30 pm IST: BJP wins 56 seats, Congress deafeted after securing only 11 seats.
4:49 pm IST: Uttarakhand wins 47 seats, it is leading in 10. Congress wins 11 seats.
4:30 pm IST: Uttarakhand BJP president Ajay Bhatt loses to Karan Mahara of Congress by 4981 votes from Ranikhet assembly constituency.
4:10 pm IST: Harish Rawat to meet Uttarakhand government on Saturday. He is reportedly going to resign.
2:39 pm IST: BJP has won 12 and the Congress has secured 3 seats in the state.
1:28 pm IST: Congress and BJP win two seats in Uttarakhand. BJP is leading in 56 and Congress leads in eight.
1:12 pm IST: Congress wins one seat in Uttarakhand. The GOP of India is leading in nine others. However, BJP has a lead of 57 seats though none have been declared as confirmed wins. BJP so far has 45.5 percent voteshare while Congress has 33.7 percent.
12:52 pm IST: BJP leading in 56 seats, no wins declared by the election commission yet.
12:05 pm IST: BJP leading in 53 seats, Congress leads in 12 and Independent candidates leading in five.
11:55 am IST: Uttarakhand CM Harish Rawat loses from Haridwar rural seat.
11:12 am IST:
Whether it's UP or Punjab or Goa or Uttarakhand.
The only party everyone voted for is Change.#ElectionResults

— Sorabh Pant (@hankypanty) March 11, 2017
10:40 am IST: "People trust PM Modi," said Union HRD minister Prakash Javadekar.
10:04 am IST: BJP workers all set to begin celebrations.
9:55 am IST: BJP crosses half-way mark, takes major lead in 48 seats.
9:30 am IST: Chief Minister Harish Rawat now trailing from Haridwar Rural seat.
9:22 am IST: BJP takes big lead in Uttarakhand. Congress trailing with 5 seats. BSP leading in one.
9:17 am IST: Chief Minister Harish Rawat leading from Haridwar Rural seat.
9:11 am IST: BJP leading in 18 seats with Congress trailing with 2 leads.
9:02 am IST: BJP leading in 10 seats, Congress trailing with 2 leads.
8:55 am IST: BJP leading in 6 seats, Congress leading in 2.
8:51 am IST: Congress now leading on 3, BJP on 2.
8:43 am IST: Congress and BJP leading in one each.
8:27 am IST: BJP, Congress in direct fight in the state. Regional parties lose ground.
8:00 am IST: Counting of votes has begun in the hill state.
7:14 am IST: We are confident that Congress is coming back in power; the party will get 42 seats in Uttarakhand, Harish Rawat to CNN-News18
7:00 am IST: Pithoragarh's Munsiari receives snowfall.
6:00 am IST: There has been rebellion in the ranks of both the Congress and the BJP over distribution of poll tickets. It would be no surprise if this affects one or both parties adversely.
5:00 am IST: The BJP has tried a lot of tricks to usurp current Uttarakhand Chief Minister Harish Rawat. It remains to be seen if the people hit back at the saffron party for it.
4:00 am IST: Four hours to start for counting of Uttarakhand Assembly election results, and it is expected to be neck-and-neck between the BJP and the Congress, with a slight advantage for the saffron party.
Counting for the Uttarakhand election result will begin on March 11, when it will be decided if the exit polls were correct in their interpretation or not and which party would come to power.
The exit polls on Thursday did not give any clear indication about who would take the maximum number of seats. However, the Bharatiya Janata Party has a higher chance of winning than the Congress. The Assembly has 70 seats and 36 is the half-way mark.
According to the poll of exit polls, which is based on the predictions of two Exit Polls — India TV-CVoter and News24-Today's Chanakya, BJP would win 42 seats, while Congress would win 24 and others would get four seats. According to the CNN-News18-Gramener exit poll, BJP will get 38 seats, while Congress would get 26 seats.
Chief Minister Harish Rawat had faced a trust vote in 2016, which he won, as rebel MLAs were disqualified by the Supreme Court. His government has faced several scam charges relating to land acquisition and liquor.