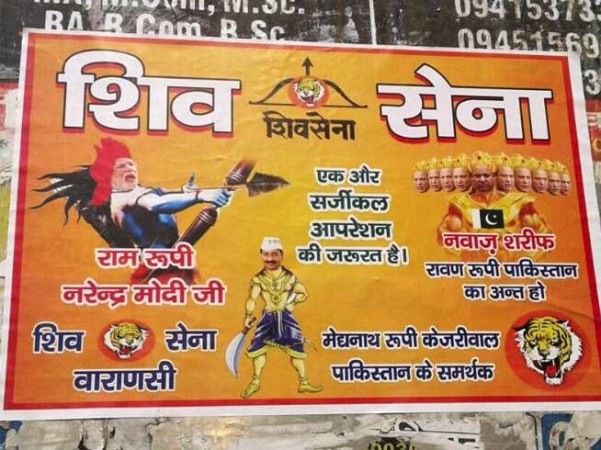 The Varanasi unit of the Shiv Sena has portrayed political relations in a new light through a series of posters that depict Prime Minister Narendra Modi as Lord Ram, his Pakistani counterpart Nawaz Sharif as the demon king Ravan and Delhi Chief Minister Arvind Kejriwal as Meghnad.
The posters, brought out in Uttar Pradesh with the Navaratri festival in mind, show how the supporters of Modi, and the BJP and its allies, perceive the three politicians.
While terror continues to emerge from Pakistani soil — one of whose most recent instance was the terror attack on an Indian Army base in Uri, which led to the death of 19 soldiers — India recently conducted a surgical strike along the Line of Control (LoC) between the two neighbouring countries, razing seven terrorist hideouts and other infrastructure, and killing 38 terrorists.
After the surgical strike, Kejriwal — otherwise a tireless Modi-baiter — seemed to have changed his tone when he congratulated the prime minister on the Army action. He, however, also asked Modi to silence those claiming that the strikes did not happen — effectively asking him for proof of the attack, which Pakistani media latched on to.
The poster tries to encash on this development, by portraying Modi as the righteous Lord Ram; Sharif as Ravan, who is vanquished by Ram; and Kejriwal as Meghnad, the son of Ravan who had the ability to wage war from the clouds. That the 10-day festival of Dussehra, which culminates with people celebrating Ram's slaying of Ravan, is currently under way, of course, helps the cause of Modi's supporters.
"Our activists in Varanasi have been outraged by what Kejriwal has said, and by how Pakistan is supporting terrorism. We are also outraged by the comments of Congress leaders who have raised a question on the surgical strike," Arun Pathak, the spokesperson for the Uttar Pradesh unit of the Shiv Sena, told International Business Times, India.
"We do not have a problem if you protest against Modi or even us. However, if you speak Pakistan's language and dishonour our soldiers, who are regularly laying down their lives for us, we will protest against you, not just in Varanasi but all across the state," he added.