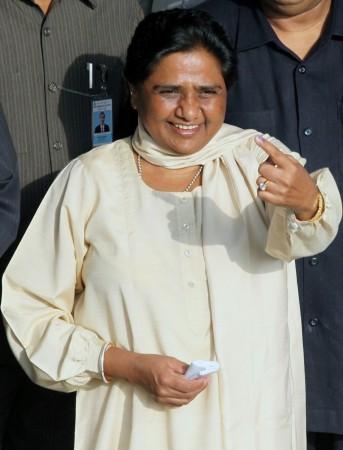 Members of Nav Nirman Sena in Uttar Pradesh allegedly vandalized a statue of former chief minister and BSP supremo Mayawati on Thursday.
Nav Nirman Sena, which has claimed responsible for the incident, has reportedly set a 48-hour deadline for the governmnet to remove all the statues of Mayawati across the state.
According to the media reports, the NNS activists came on three or four bikes to the Ambedkar park, vandalized the statue of Mayawati and fled the scene after they chipped off the head and hand with hammer.
Uttar Pradesh chief minister Akhilesh Yadav has condemned the act and assured reconstruction of the broken statue of former chief minister at the earliest.
The BSP leaders commenting on this said it was unfortunate and alleged that it's a reflection of anti-dalit sentiments, said media reports.
Mayawati, during her regime in Uttar Pradesh have installed statues of Dalit icons, including hers, besides setting up several parks and memorials. Her interest in overdoing status across the state was widely criticized by rival political parties, who accused her of unnecessarily wasting public funds.
The Mayawati government continued to build memorials of Dalit icons in Lucknow and Noida, disregarding the protests from opposition parties. It was touted as Mayawati's "dream project."
It's reported that Mayawati government had razed a government colony, a jail and dislocated a number of offices to raise parks and memorials.
The Samajwadi Party government, which came to power in March this year, assured that it will not uproot or tamper the statues and memorials built during the BSP regime. Instead, it will use the vacant places to raise hospitals and educational institutions.
Meanwhile, the SP government has sought an explanation on Mayawati's "dream projects" of installing her statues and those of her party symbol (elephant) across the state.