The counting of the three-phase municipal elections or 652 urban local body polls in Uttar Pradesh began at 8 am on Friday.
The counting of votes is taking place in 334 centres across Uttar Pradesh.
Here are the LIVE updates:
3:56 PM IST: BJP suffered a minor setback as it loses all six nagar panchayats in Deputy CM Keshav Prasad Maurya's home town of Kaushambi.
3:50 PM IST: Finance Minister Arun Jaitely has said that BJP leading across several wards in UP shows that people have supporetd GST and demonetisation.
"The Congress has used GST glitches and note ban to attack the BJP in the Gujarat election. GST has made doing business and trade very easy. The market size for every trader has grown. Now the whole country is his market," Jaitley was quoted as saying by Firstpost.
3:40 PM IST: With BJP emerging victorious in several wards, the Adiytanath-led party is celebrating.
3:38 PM IST: More victories for BJP, as its candidate from Pilibhit's Puranpur, Pradeep Jaiswal wins.
3:37 PM IST: Three independent candidates Pramod Jayaswal, Rukshana Vijay Sahu win Nagar Panchayat seats in Jafrabad, Madiyahun Kerakat respectively in Jaunpur
3:24 PM IST: Meanwhile Adityanath has high hopes from the UP civic polls as it will also ensure a chance for the BJP to win in the upcoming Gujarat Assembly polls.
3:23 PM IST: BSP candidate Mohammad Furkan wins Mayor seat in Aligarh
3:13 PM IST: The BJP has so far won in 324 wards, followed by SP with 114 wards, BSP with 80 wards and Congress with 50 seats.
3:02 PM IST: BJP's Maya Tripathi loses ward no 68 in Gorakhpur. Independent candidate Nadira wins. Gorakhnath Temple is situated in this ward.
2:35 PM IST: With a Congress candidate named Anju Agarwal occupying the mayor's position in Muzaffarnagar municipal council, the Congress finally has a win to talk about.
2:25 PM IST: The BJP is leading in 14 out of 16 municipal corporations, with the BSP following closely behind.
2:15 PM IST: BJP wins the nagar panchayat in Amethi.
2:10 PM IST: Meanwhile, the BJP and BSP are having a neck-to-neck battle to win the 70-ward Firozabad municipal corporation. While BJP has so far captured 21 wards, the BSP is close behind with 20.
2:07 PM IST: According to latest reports, BJP has also won on 56 wards out of 110 wards in the Kanpur municipal corporation.
2:01 PM IST: With BJP leading in Lucknow, Sanyukta Bhatia is set to become the first woman mayor of Uttar Pradesh's capital.
1:50 PM IST: BJP wins Budana Nagar Panchayat election in Muzaffarnagar.
1:45 PM IST: According to the ABP News, in Aligarh which has 90 wards in its Municipal Council, the BJP is leading in at least 26 wards while BSP is leading in 22 wards.

1:30 PM IST: In the Kanpur Mayor race BJP is leading with 44,125 votes, followed by Congress: (34,213 votes), BSP (12,296 votes), SP (6,306) votes and AAP with 868 votes.
1:10 PM IST: BJP candidate Hrishikesh has won in Ayodhya. However, SP's transgender candidate has come in second.
1:08 PM IST: BJP Mayor candidates are still leading in Varanasi and Firozabad.
12:55 PM IST: Meanwhile, in Khalilabad, a BSP candidate Jagat Jaiswal's agent has accused the authorities of rigging the election. He alleged that all administration employees were acting as "BJP agents".
12:45 PM IST: BJP's Sanjay Dixit of Mathura has won the panchayat chairman election

12:10 PM IST: In the Lucknow mayor race BJP candicate Sanyukta is leading with 13,377 votes, followed by Meera Vardhan of SP with 7,913 votes, Prema Awasthi of Congress with 3,304 votes and Bulbul Godiyal of BSP with 2,914 votes.
12:05 PM IST: In Amethi district, the SP leading at Gauriganj town while the BJP has taken the lead at Jais.
11:59 AM IST: BJP is leading in the Allahabad Mayor race​ as well, said a Firstpsot report.
BJP: 6922 votes
BSP: 999 votes
SP: 2934 votes
NOTA: 56 votes
11:56 AM IST: With the BJP now leading in 14 of 16 municipal corporations in Uttar Pradesh, it seems that the BJP's win is eminent.
11: 45 AM IST: BJP candidate Meera Agarwal wins the lucky draw. BJP and Congress both had secured 874 votes in Ward number 56 in Mathura.
11:38 AM IST: To control ruckus at a counting centre in Muzaffarnagar, the police had to resort to lathucharge the crowd. Four people injured.
11:30 AM IST: After round 10 concluded in Meerut, the BJP mayoral candidate has a narrow lead over the BSP aspirant, while the Congress is in the last position.
BJP: 77,305
BSP: 76,311
SP: 16,114
Cong: 12,158
11:18 AM IST: BJP and Congress both have got 874 votes in Ward number 56 in Mathura. The winner will now be decided by a lucky draw.
11:16 AM IST: BJP Mayor candidate Sanyukta Bhatia is leading in Lucknow with 5,455 votes, followed by SP, Congress third and BSP in the fourth position.
10:45 AM IST: In Allahabad, BJP is leading in 19 seats while the BSP is leading in 13.
10:44 AM IST: Current reports have said that BJP's mayor candidates are leading in Ghaziabad, Mathura, Firozabad, Kanpur, Lucknow, Varanasi, Allahabad, Bareilly, Aligarh, Moradabad, Gorakhpur, Meerut and Ayodhya.
10:30 AM IST: According to an India Today report, the BSP which was initially leading in Firozabad has now been overtaken by BJP after four rounds of counting.
10:26 AM IST: BJP is leading in Chief Minister Adityanath's home town of Gorakhpur.
10:23 AM IST: The BJP has now taken the lead in Kanpur, which is also the biggest city in UP.
10:20 AM IST: In ward 46 of Agra, BJP candidate Manjula Singh has won. In ward 96, Pratap Singh, an Independent candidate has won. However, BSP is currently leading in Agra, said a Firstpost report.
10:15 AM IST: According to News18, BSP is now leading in Saharanpur, Agra, Firozabad, Jhansi and Ghaziabad.
10:11 AM IST: Ruckus created by candidates and their supporters at the counting centre in Shahjahanpur. Police force deployed
10:10 AM IST: BSP Mayor candidate now leading in Meerut and Congress leading in Mathura.
10:00 AM IST: BJP Lucknow Mayor candidate Sanyukta Bhatia is confident of her win.
9:50 AM IST: In Moradabad BJP mayoral candidate is leading by over 1,000 votes , Bahujan Samaj Party second, Samajwadi Party third and Congress fourth.
9:30 AM IST: The BJP is leading in 13 out of 16 municipal corporations including in Saharanpur, Meerut, Allahabad, Varanasi, Gorakhpur, Pilibhit and Ghaziabad.
9:00 AM IST: The Samajwadi party is leading in Firozabad, Leherpur seat in Sitapur and Ayodhya.
8:45 AM IST: Counting of votes begin across 334 centres in UP.
The civic polls are of great importance to Uttar Pradesh Chief Minister Yogi Adityanath, as it would prove whether his stint as a political leader has been successful till now. In fact, if BJP emerges victorious in this poll, it would also leg up BJP's change to win in the upcoming Gujarat Assembly elections.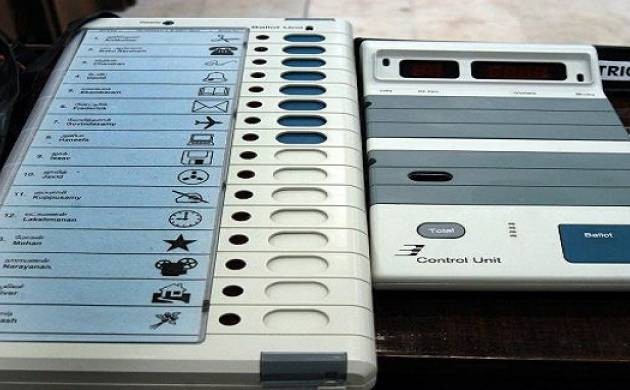 To ensure a win for BJP, the CM campaigned across all 16 local bodies.
In the first round of polling which took place on November 22, 52.59 percent polling was recorded. However, in the second round of polling, which took place on November 26, only 49.30 percent people voted.
The third and final phased ended on November 29 and saw to 58.72 percent turnout.