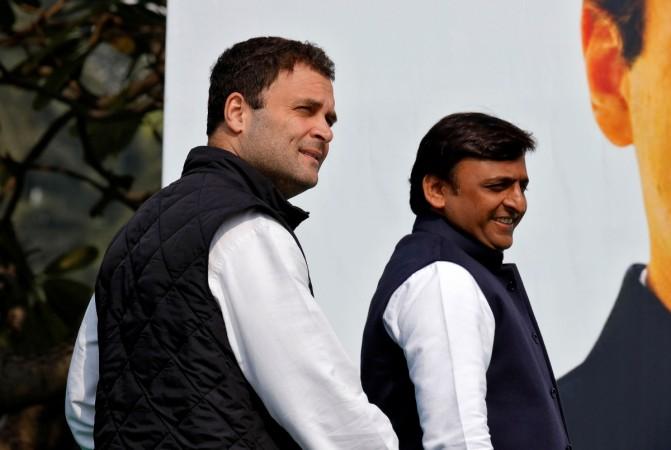 Uttar Pradesh Chief Minister Akhilesh Yadav's followers and friends are now quite openly faulting him for having tied up the Congress party.
Perked by exit poll predictions, social media today is replete with posts detailing the alliance with Rahul Gandhi as the biggest reason for Akhilesh's probable failure to come back to power in the just-concluded Assembly elections in the state.
So what really made Akhilesh sidle up to a rather dead Congress in Uttar Pradesh?
It all started in May 2014. Narendra Modi swept the state of Uttar Pradesh, winning 71 seats out of 80 seats, completely decimating everyone else. For Akhilesh, it was a bolt out of the blue. He had gauged the Modi wave, but such an embarrassing drubbing was never imagined.
Everyone was now baying for his blood, with his own father Mulayam Singh Yadav openly pulling him up several times for not being able to govern properly. Uncle Shivpal Yadav was smirking in his face and Azam Khan had surreptitiously become active in calling Akhilesh a not-so-popular CM among Muslims.
Also read: Assembly Elections 2017: Maurya, Trivendra, Parrikar are top candidates for CM hotseat
The state bureaucracy started slipping out of his hand, and was being summoned by his father every now and then. A flummoxed Akhilesh had only his wife Dimple's shoulder to rest his worried head on. And then the Bihar elections happened in November 2015.
What became clear to everyone from the results of Bihar was that only a coalition of forces can stop the Modi juggernaut. Post Bihar, Akhilesh started mellowing his stance towards the Congress, and also towards his main opposition in the state; Mayawati. Not sure of the allegiance of his state intelligence apparatus, he roped in foreign election management agencies to assist him in finding the fusillade against the swelling BJP.
The inputs given to him vouched for a tie-up with the Congress, chiefly premised on the latter's not-so-bad vote share of 7.5% in 2014 even as BJP swept the state.
Though Congress could win only two seats, what seemed interesting was that the combination of the Congress and SP vote share could work wonders. Together; SP and Congress had 30% vote share against 41% vote share for the BJP.
With some extra smart moves, the battle could be taken really close to BJP's forts. A Bihar-like Maha Gathbandhan (royal alliance) was proposed to the RLD also, but talks fell through owing to the unreasonable numbers of seats demanded by the Jat leader Ajit Singh.
Some internal surveys done by foreign agencies gave Akhilesh the understanding that his popularity would rise if he is seen to be distant from the old stock of the party and this would compensate for the absence of RLD in the coalition.
Though many are saying today that the decision to align with Rahul Gandhi was a mistake, some astute observers of UP politics still hold that had Akhilesh not tied up with the Congress the results for him could have been even worse.
The coming together with Rahul Gandhi did make many Muslim voters believe that he, as the new boss of the Samajwadi Party, was very serious in halting the moves of "communal forces".
The Samajwadi Party could win only 25-30 assembly segments in 2014. Now, if the number is anything beyond that, Akhilesh will be able to justify his move, telling his detractors that he has at least reversed the slide and that things will only get better from here.