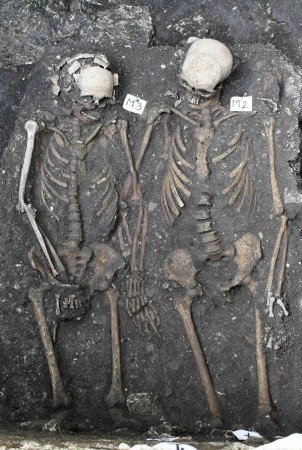 Around 100 skeletons kept in 22-25 sacks were found in a locked room of reserve police lines in Unnao district in Uttar Pradesh. It created panic among the UP police since 104 bodies were found on the banks of the Ganga in the district just a fortnight ago.
It was noticed by painters working in the premises who peeped into the room out of sheer curiosity. When they saw human bodies piled up, they alerted the police.
"A two-member committee comprising an official from the district administration and a police officer has been set up to go into the matter," district magistrate of Unnao, Soumya Agarwal was quoted by PTI as saying.
Further, the DIG Police (Lucknow range) R K Chaturvedi will also investigate the matter and revert at the earliest to higher authorities.
The room was used by the police for conducting postmortem before 2008 and a register was maintained to record details of bodies. The chief medical officer of Unnao, Geeta Singh said that the records will also be examined to look into the recovery of the skeletons.
Forensic expert Ashutosh who arrived from Lucknow said it would be wrong to draw any conclusion without conducting tests.
Both the Congress and the BJP criticised the state government and demanded answers on the matter.
"The government must clarify how such a thing happened. It should ensure that such incidents do not occur in future," Congress leader Akhilesh Pratap Singh was quoted as saying.