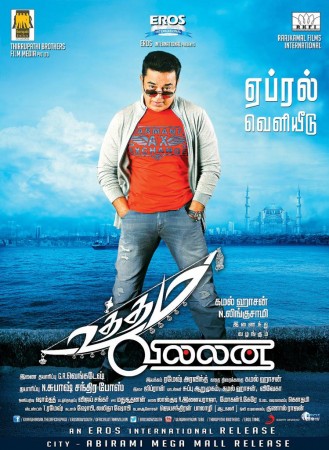 When Kamal Haasan's "Uttama Villain" was released after cancellation of shows on 1 and 2 May, it was reported that all issues between the producers and financiers of the movie had been sorted out.
However, sources close to the industry claim that not all issues have been cleared in connection with "Uttama Villain", and the movie may face trouble in screening. Apparently, the initial license was issued only for first three days and the digital operators and screens are now given license on daily basis for screening. This has reportedly caused trouble and confusion for theatres as screening license is normally issued from Friday to Thursday.
The latest update on "Uttama Villain" was stated by industry and trade analyst Sreedjar Pillai on his Twitter page.
Looks like #UttamaVillain, finances r yet 2 b resolved. Screening license was 1st issued for 3 days. Now given on a day to day basis 1/2

— Sreedhar Pillai (@sri50) May 6, 2015
The digital operators & screens showing the film r going mad, by daily license. Normally a screening license is issued from Fri to Thu! 2/2 — Sreedhar Pillai (@sri50) May 6, 2015
"Uttama Villain", which was expected to release on 1 May, faced unprecedented cancellation of shows. The issue was later sorted out when various associations of the industry along with Gnanavelraja of Studio Green came forward to help "Uttama Villain" producer Lingusamy financially.
According to reports, the cancellation of "Uttam Villian" shows has resulted in a huge loss. At the same time, the Kamal Haasan starrer is currently doing extremely well at the Tamil Nadu and overseas box office.