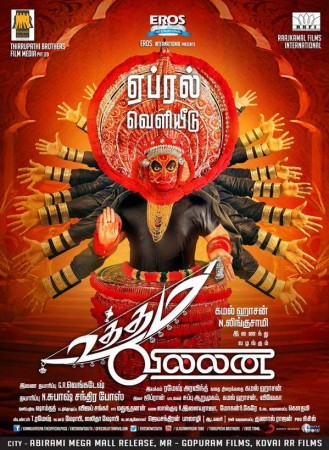 Kamal Haasan's "Uttama Villain" once again faced glitches in screening the movie on 7 May morning as Eros refused to give license for the day's show. However, the issue was sorted out after a series of discussions. As of now, Eros has given KDM (Key Delivery Message) the license to screen the film today (Thursday).
According to reports, Eros's stand delayed the morning shows of "Uttama Villain" on Thursday.
Earlier, we had reported that theatre owners have been facing issues with the licensing of Kamal Haasan's movie "Uttama Villian". The makers are now said to be in discussion with Eros to avoid more cancellations.
Reports have been coming in that theatres had issues with the way Eros has been distributing the license of the movie.
Apparently, the initial license was issued only for first three days and the digital operators and screens are now given license on a daily basis. This has reportedly caused trouble and confusion for theatres as screening license is normally issued from Friday to Thursday.
Earlier, "Uttama Villain" faced issues when financial problems between the producers and financiers halted the release of movie on 1 and 2 May. The issue was later sorted out when various associations of the industry along with Gnanavelraja of Studio Green came forward to financially help "Uttama Villain" producer Lingusamy.
Meanwhile, Eros had brought the distribution rights of "Uttama Villain" along with "Rajini Murugan" for a whopping ₹96 crore.