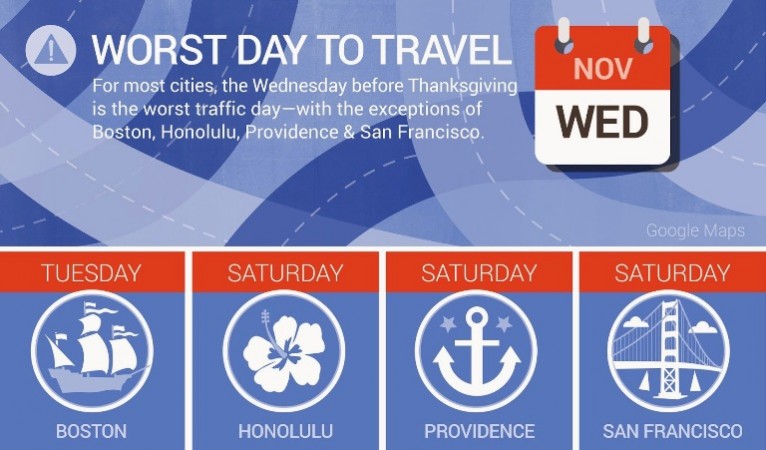 Thanksgiving is coming and most bags will be packed for the trip to meet near and dear ones. While you might have checked everything, Google offers some last-minute tips to beat the traffic and make rides pleasant just before you hit the road. The world's largest internet search company gathered traffic data during Thanksgiving over the last two years for 21 cities across the U.S. Based on this information, Google found that Thanksgiving makes up for the worst traffic days of the year.
Thankfully, Google has some real data that can help us beat the rush. "Whether you're traveling near or far, Google Maps' traffic tips will help you navigate the roads like a pro, so you'll be feasting on Turkey Day delights with friends and family in no time," Aaron Nelson, Google Maps Product Manager, wrote in the company's Lat-Long blog on Tuesday.
According to Google, the worst time to hit the road is between 3 p.m. and 5 p.m. on the Wednesday before Thanksgiving. While heading back from your vacation, Google found that Sunday is a day to return rather than Saturday, which is roughly 40 percent worse in traffic. If you have any travelling plans on the Thanksgiving Day, Google suggests staying off the road between 12 p.m. and 2 p.m. to beat the rush.
Google's statistics of two years show the Thursday before Thanksgiving as the best time to travel.
Sadly, residents of Boston and five other cities will be facing the usual traffic around Thanksgiving like the rest of the days during the year. Other cities such as Philadelphia, Austin and Washington, D.C. witness the biggest increase in traffic around Thanksgiving.
Google Maps can pull up real-time data on the traffic around the Thanksgiving. The navigation service is available on Android and iOS smartphones for free, along with additional features like voice-guided GPS navigation, incident reports and automatic rerouting, restaurant reservations and more.