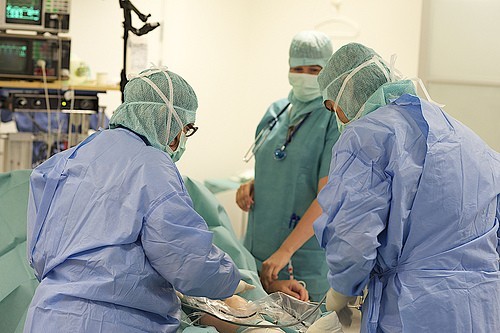 According to a research by Patient Safety Experts in UK, the use of cement in several hip replacement surgeries conducted every year, is linked to surgery deaths.
The study was conducted by researchers from Imperial College London, including Liam Donaldson, the former chief medical officer. They pointed out that the recent evidence may bring hip surgical procedures under review, with at least 41 deaths reportedly being found associated with the use of cement in England and Wales since 2005.
The purpose of the cement being used in surgeries is that it holds artificial joints together. The procedure is commonly used in the UK and though it has long-term benefits for patients, it is not an essential part of a successful operation.
Between 2005 and 2012, 62 cases of an uncommon reaction called bone cement implantation syndrome (BCIS) were identified by researchers including Donaldson.
A patient suffers from BCIS, when the cement leads to release of bone marrow and fat into the bloodstream, which in turn disturbs the blood circulation in the hip joint. This leads to drop in blood pressure and blocks the blood flow, potentially causing cardiac and respiratory arrest.
While the overall risk of such incidents is relatively low – one death per 2,900 operations is reported. With the growing number of patients undergoing hip replacement yearly, it is important for the surgeons to take vital step in the use of the cement.
Over 20,000 emergency partial hip replacements take place in the UK every year. In 2009, National Patient Safety Agency (NPSA) alerted surgeons and health professional regarding the risk involved in using of cement and the consequences of BCIS. Despite this, the number of BCIS cases has increased every year.
"The National Patient Safety Agency issued an alert [about BCIS] in 2009. At that point it seems the orthopaedic surgical community weren't convinced of the risk, or believed the benefits outweighed the risk. My view is that you can't condemn the use of cement, but the jury is out. This needs to be kept under review," Independant quoted Donaldson.
Following the 2009 alerts, NPSA says that the precautionary measures regarding use of cement have either not been executed or were not effective.
The study, however, is not able to completely evaluate whether the benefits of cement overshadowed the associated risks.