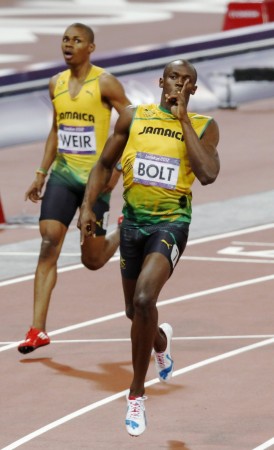 Poster boy of track and field, Usain Bolt, is confident of improving his 100 and 200 metres world records in the Berlin World Championships, which he had made five years ago.
The star sprinter vowed to lower his times that stand at 9.59 (100 metres) and 19.19 (200 metres). Bolt has resumed training for the world championships after making a comeback from a foot injury. He is confident of lowering both the records and is looking forward to getting back to his best.
"I have discussed with my coach what it will take to lower these records, and he thinks it's very possible," said Bolt. "I trust my coach completely, so if coach Mills says they can be broken, then I know I can lower them."
Earlier, it was reported by Bolt's manager that the 27-year-old has a sore foot, but the world record holder is not worried about the injuries and the big Jamaican is now concentrating on the forthcoming season.
"[The injury] is nothing serious ... my experience has taught me that that's just the nature of the sport," Bolt was quoted by The Gleaner.
"Setbacks are a part of track and field. I have come to accept that a long time ago. I had mine, and [I'm] now back in training preparing for the upcoming season."
Apart from his improving his personal timings, Bolt is also aiming to better the 4x200 metres relay record with the Jamaica team in the IAAF World Indoor Relays in The Bahamas.
"[The IAAF World Relays] should be a lot of fun. Relays are always the best part of any championship for me," Bolt said. "Jamaica has a lot of talented athletes, so I have no doubt that we can lower the record."