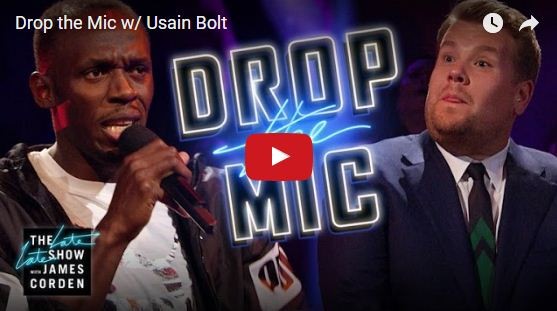 Drop The Mic show recently witnessed an epic rap battle between Usain Bolt, the fastest man on earth, and The Late Late Show host James Corden. After the English show host challenged the Jamaican sprinter, viewers were entertained with some rhymes as they poked each other.
The verbal battle between the two celebrities began with the 38-year-old actor taunting the Olympian, "Are you ready? You are on my track now." To which, Bolt replied, "I was born ready. I won everywhere."
The television host started the rap battle with confidence, as he rhythmically sang with the beat: "It sounds like you named yourself when you were five years old. After all those races you won in Brazil, you're about to lose to a man whose standing still. Now athletes aren't great at math, so I hope this helps. You have 14 gold medals less than Michael Phelps."
The Olympian hit back: "You think you're a star, but little do you know, most people in here think they're watching the Kevin James show. I run my race in 10 seconds — you last that long in bed. You can't win tonight. No need to try. Think...have you ever seen me loose to a white guy. I can't believe you entered this battle to be a winner, you only can outrun me if someone yells 'dinner.'"
Corden continued blasting Bolt by asking him how it feels like to have a career that people only care about once every four years. "Jamaicans all love you, which is no surprise, for a country where one in three people is high. You're f****** six foot five so look out everybody Frankenstein has arrived!"
The sprinter gave a befitting response: "So you saw Cool Runnings on your couch one night, while I was in the gym, to make that movie my life. I'm the first human being in the history of racing, you host the lowest show in the history of ratings. I tried watching the show and all I could think is this show should faster than one of my sprints."
Watch the rap battle between Usain Bolt and James Corden in Drop The Mic: