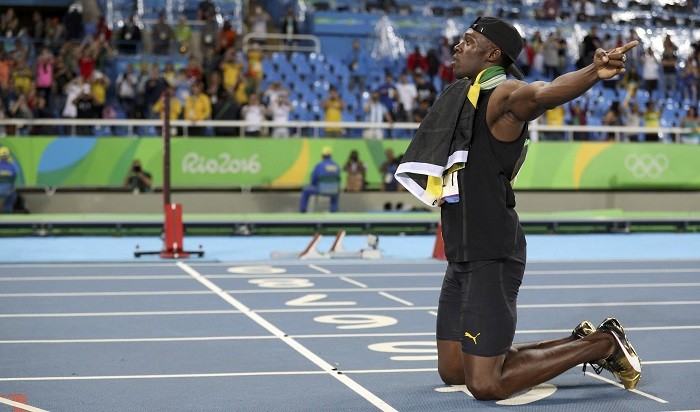 Usain Bolt has confirmed he will indeed give professional football a shot, with the sprint legend all set to train with Borussia Dortmund. Bolt will retire from athletics in 2017, after the London World Championships.
Borussia Dortmund chief Hanz Joachim Watzke, earlier this month, revealed Bolt would train with the first team at some point, and now the Jamaican great has also admitted he is set for a possible footballing career once he hangs up his spikes.
"It's something I always wanted to try to see if I was any good at," the 20-year-old, speaking at the premier of "I am Bolt", said. "I will do a little training to see whether I am worthy."
The training stint with Dortmund will have to wait until the end of the 2017-18 season, however, because Bolt's career will only come to an end in August of 2017 and the Bundesliga club have made it clear they do not want any kind of disruption during a season.
Bolt, of course, is coming off a brilliant 2016 Olympic season, when he erased any doubt over who the greatest sprinter of all-time is by winning three gold medals at the Rio Olympics, to go with his treble in Beijing and London. He was unstoppable in the 100m, even better in the 200m and coasted to victory with his Jamaica teammates in the 4x100m relay.
While that might have brought plenty of smiles to the Jamaican face, Bolt admitted he did not exactly enjoy preparing for the Rio Games, owing to the extra pressure.
"The workload I had leading up to the Olympics and even at the 2015 world championships meant there was so much pressure and stress that it just wasn't fun anymore," Bolt said.
Bolt will bid goodbye to athletics by running the 100m in the World Championships next year, and the Jamaican believes the fact that he will only have the shorter of the sprint events to worry about means he might enjoy himself a little bit more.
"But now the pressure is gone I'm much more relaxed and happy to go to training because I know it's not going to be so intense anymore," Bolt added.
That, of course, does not mean the great man will make it easy for his opponents. "I never want to lose," Bolt said. "Even in a simple board game. I'm always going to be prepared, no matter how much I relax I am still a competitor.
"I'm still never going to lose."