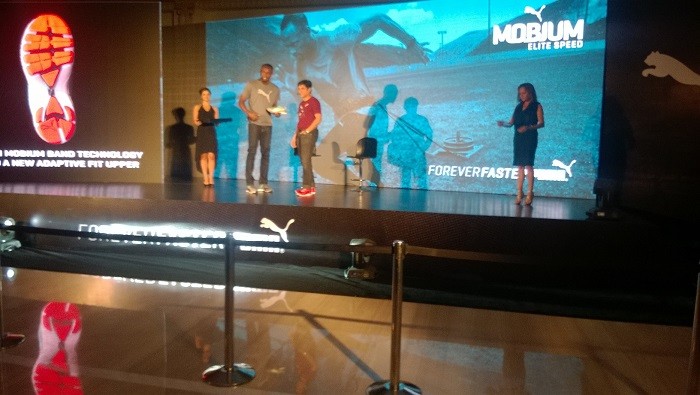 "I can make anything look good," was one of the first words that came out of the phenom that is Usain Bolt. And for an hour, in his first visit to India, the "fastest man on earth" was as engaging, as funny and as "made for the spotlight" as you could have asked for, making a media interaction - so dreary and predictable at the best of times - "look good."
Meeting the man is like meeting a mountain of personality, and in the blink of an eye you are laughing at every single joke, latching onto every single word and waiting with baited breath for every single answer.
Brought to India for the first time by Puma, who have been doing their fair bit to bring in famous faces to this country, Bolt began with his iconic bow and arrow pose, waiting long enough to make sure that every single camera in the building had that iconic pic.
And then the fun began. "I'm very happy to be here," said the world record holder in the 100 metres and the 200 metres. "It's been coming a long time, and when Puma said they wanted me to go to India, my first reaction was 'finally'."
The inevitable first question put to Bolt was about those two world records - 9.58 in the 100 metres, and 19.19 in the 200 - both achieved in that unforgettable World Championships event in Berlin in 2009.
And the answer was also predictably Bolt. "It's out of reach," said the Jamaican with a grin. "I've put in a high standard.
"I'm not bragging, you know. Usually, these records have been broken in the past by such small margins, that there was always a chance of going past them. But when you break it by tenths, and seconds, it becomes more difficult."
The ridiculously gifted Jamaican, however, does believe it is possible for him (of course, who else) to break those marks set five years ago, with the 200 metre record, in particular, one that he is eyeing closely.
Many believe Bolt, who will play a cricket match later in the day at the Chinnaswamy Stadium with Yuvraj Singh and Harbhajan Singh, is capable of going below the 19-second mark, after initially, the record - previously set by the legendary Michael Johnson - was thought to be unbreakable, and running sub-19 race remains Bolt's biggest desire.
"I want to go sub-19, which is why I'm so focused on the 200 metres. It is my favourite race, right from when I was a kid. It is more difficult and more technical.
"I believe there is definite room for improvement in the 200m, and if I can better my 200m mark, then I believe the 100m will follow."
The one thing possibly missing for Bolt to go that extra mile and break those two records of his is proper competition - someone who can seriously threaten his legacy.
"Track and field is a weird sport," said Bolt. "Anybody can win it on the day. My coach always tells me Justin Gatlin is a great big-event athlete, and then there is Tyson Gay and Yohan Blake, who are all capable.
"But normally I would say nobody can beat me, and I'm just not going to let anybody beat me."
Bolt is not just about the super-charged headline-quote-a-minute athlete who lives for just gold medals, though. There is plenty being done behind the scenes by the 28-year-old via his foundation, which is geared to help kids grow with as much of a positive atmosphere as possible.
"Kids are the future, and I live to inspire (one of his favourite tag-lines that he likes to use to describe himself)," he said. "We try to help a lot of schools, especially in Jamaica and not a lot of kids can turn out to be sports stars, so we ensure they have the right ingredients to grow up.
"My foundations is mainly geared towards kids."
While it is near unimaginable to envisage track and field without Bolt (2014 might have been a pointer actually, considering the injuries and the reduced time that the great man ran), the Jamaican revealed he would quit the sport a year after the Rio Olympics in 2016, where he will try to defend his titles.
"I will run for one more season after Rio," he said. "That is the plan.
"And after that, maybe I will try to play [professional] football. I don't know how good I will be, but let's see," added the massive Manchester United fan, who famously asked Sir Alex Ferguson to sign him a few years back.
If the football career does not quite pan out as expected, though, there is a fall-back option – music and a bit of DJing.
"I'm really into music," added the big Kevin Garnett fan. "I always dance and go to clubs. And of late, I have been practicing DJing. I have bought all the equipment and practice a bit at home and I also do a little bit of it when I go into a club."
So is he any good? Stupid question, right? "Of course, I'm good at it."