Usain Bolt, the greatest track and field athlete ever, is set to take the centre-stage for the final time in the IAAF World Championships 2017 London on Saturday, August 5. The Jamaican runs in the 100m men's semi-finals event and in the 100m men's final event.
No matter how disappointed he might be from his performance in the heats, the fact remains we all know Bolt would make it to the final of the 100m event and even bow out on a high, winning that coveted gold medal.
The 30-year-old clocked 10.07 seconds in the heats and still managed to qualify. It was, however, way behind his personal best and the world record time of 9.58 seconds. The disappointment from him, thus, was palpable.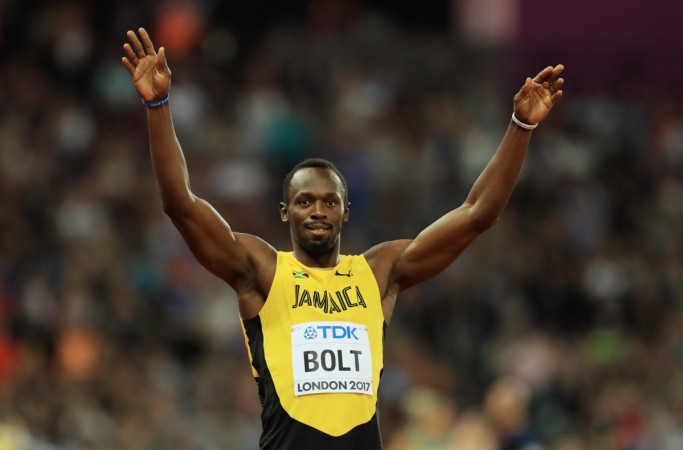 "I'm not fond of these blocks," said Bolt after the race. "I have to get this together."
Bolt, winner of eight gold medals in the Olympics, knows the stiff challenge he would be facing from the likes of America's Christian Coleman, Justin Gatlin and fellow countryman Julian Forte, who is 24 years old.
Men's 100m heats: Who had a better time than Usain Bolt
Julian Forte (Jamaica): 9.99 seconds
Christian Coleman (USA): 10.01 seconds
Ben Youssef Meite (Ivory Coast): 10.02 seconds
Reece Prescod (Great Britain): 10.03 seconds
Bingtian Su (China): 10.03 seconds
Abdul Hakim Sani Brown (Japan): 10.05 seconds
Justin Gatlin (USA): 10.05 seconds
100m semi final rules:
A total of 24 runners -- divided into three heats of eight athletes each -- will participate.
A total of 8 runners -- two fastest athletes from each heat and the next two fastest athletes from all three heats -- progress to the final.
Men's 100m race schedule
Date: August 5
Semi-finals: 7:05 pm local time / 11:35 pm IST
Final: 9:45 pm local time / 2:15 am IST - Sunday
Venue: Olympic Stadium, London
Where to watch live
India: TV - Star Sports Select 2/HD 2. Live streaming - Hotstar
UK: TV: BBC. Live streaming: BBC iPlayer
USA: TV: NBCSN. Live streaming: NBC Sports Live
Canada: TV: CBC. Live streaming: CBC Player
Rest of Europe: TV: Eurosport. Live streaming: Eurosport Live
Africa: TV: Supersport. Live streaming: Supersport online
Other live streams: IAAF official YouTube Channel, IAAF official Facebook page