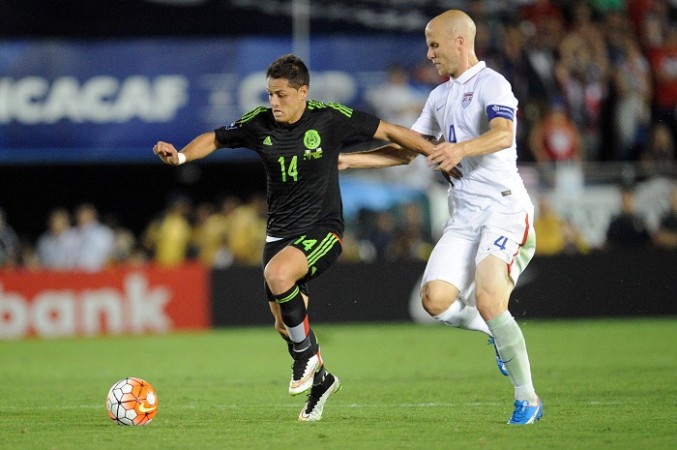 USA and Mexico will both target the perfect start to the final round of their 2018 FIFA World Cup qualifying campaign when the two rival teams meet on Friday. Playing at the MAPFRE Stadium in Columbus, the American team's fortress, US will be under pressure to pick up all three points in their first match of the "Hex."
Mexico might have the upper hand in the overall head-to-head statistic, but the Americans certainly have done better in Columbus against their opponents when it has come to the World Cup qualifiers.
In their last four matches, in 2001, 2005, 2009 and 2013, USA have trumped (no pun intended, really) Mexico 2-0. Jurgen Klinsmann's side also have a great record in Columbus, unbeaten in 11 matches, which is why they will fancy their chances against Mexico.
"Columbus is a great place for us," US goalkeeper Tim Howard, who will start the game against Mexico, told US Soccer. "We keep talking about the feeling around town. They want to have this game, they want to have us here. Every time we land and set foot in the city, we know that it's game time."
When it is game time, the team that will end up winning the match will be the one that keeps their calm in the proverbial eye of the storm. There will be tackles that fly in, there will be a bit of argy-bargy, there will be appeals for penalties for absolutely no discernible reason, and amidst it all the team that handles that pressure better will end up with all three points.
"The game against Mexico is full of emotions," Howard added. "You want to play with emotion, but you don't want to play emotionally. There's a fine line. We try to keep everything light-hearted, prepare the way we want to prepare and when it's time to go, we go."
Mexico will know they will be playing under a hostile atmosphere against the US, but coach Juan Carlos Osorio will be confident his team can cope. Osorio, who has produced solid results since taking over from Miguel Herrera, but has still been criticised for some of his team decisions and tactics, will be under pressure to produce a win over the USMNT, so that Mexico can move on from the 7-0 embarrassment suffered against Chile in the Copa America Centenario earlier this year.
The way the Americans have played in Columbus, though, scoring goals and keeping them out is going to be a huge challenge for Mexico.
Where to Watch Live
USMNT vs Mexico is set to begin at 7.45pm ET (12.45am GMT, 6.15am IST). TV and Live Streaming choices are below.
India: No coverage.
USA: TV: Fox Sports 1 and Univision. Live Streaming: Foxsoccer2go and FuboTV.
Mexico: TV: Univision, Canal 5, Fox Sports Cono Sur, TDN and Azteca. Live Streaming: FuboTV.
Latin America and Caribbean: TV: Fox Sports 2. Live Streaming: Fox Sports Play.