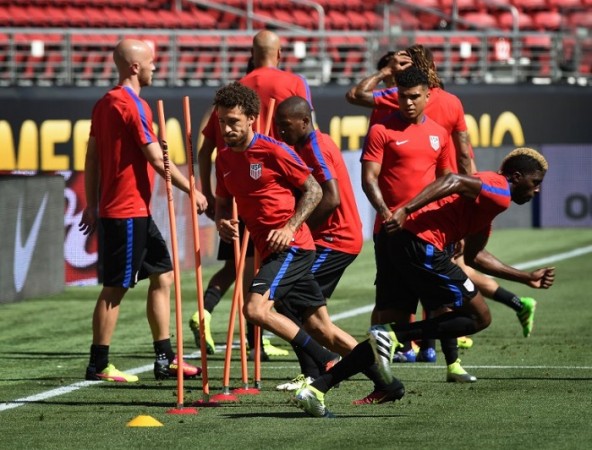 The opening match can set the tone for the rest of the tournament, be that in a positive or negative manner. So, when USA and Colombia take to the pitch in Santa Clara on Friday for the first match of the 2016 Copa America Centenario, let's hope there is plenty of excitement and goals, with the rest of the teams then following that lead.
Both USA and Colombia come into this tournament with a thing or two to prove. USA want to show they are a force to reckon with, with Jurgen Klinsmann desperate to silence his naysayers. Colombia will be desperate to make an impact, and take this extra Copa America opportunity to get back into the business of winning the trophy.
On paper, Colombia do look the stronger unit, with James Rodriguez the standout player. Rodriguez is coming off a forgettable season with Real Madrid, even if he did win the Champions League title with them. Neither Rafa Benitez nor Zinedine Zidane – especially the latter -- really looked at Rodriguez as a starter, with the Colombian not even getting off the bench in the final against Atletico Madrid.
However, Rodriguez is a different beast when he wears Colombia colours, and it is that player his country will look to, to take them all the way in this Copa America Centenario.
While Colombia will want their superstar players to step up, Klinsmann will hope his blend of experienced and talented young players do the trick on home soil. Klinsmann has been criticised quite a bit for his questionable tactics, but if a Christian Pulisic or a Bobby Wood step up to the plate in this Copa America, the USMNT fans will be left happy.
After all, this tournament is more of a ceremonial one than a proper Copa America, and the key here is to identify players who could go on and make a big impact in the World Cup in Russia in 2018.
"This is a process, and the process is never ending," Klinsmann told USMNT's official website when asked about his team's progress after a 4-0 friendly win over Bolivia. "But in the first couple of years when you're a pro, it's a big learning curve.
"We'll take it one step at a time. We put the pieces together for this tournament the best way that we get the right results."
The right result for both teams would be a victory, because there is nothing to get a major tournament moving along nicely than an opening win.
2016 Copa America Centenario: USA vs Colombia schedule.
Date: Friday, June 3, 2016 (June 4, 2016 in India and the UK).
Time: 9.30 p.m. ET (2.30 a.m. BST, 7 a.m. IST).
Venue: Levi's Stadium in Santa Clara.
TV coverage: India: Sony ESPN and Sony ESPN HD. USA: Fox Sports. Colombia: DirecTV, RCN, Caracol TV. South America/Latin America: DirecTV. Mexico: TDN, Azteca and Canal 5. France and Australia: Bein Sports. Spain: Canal+. Canada: Univision. UK: Premier Sports. Singapore: Singtel. Hong Kong: Now TV. Thailand: True Sport.