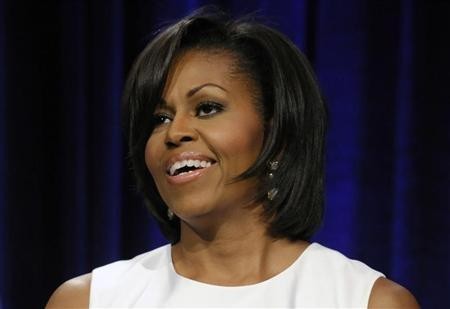 US First Lady Michelle Obama on 10 May said that her husband President Barack Obama has directed his administration to do everything possible to find the kidnapped Nigerian girls and bring them back home.
About 300 Nigerian girls were kidnapped by Islamic terrorist outfit Boko Haram, from a remote region in northeast Nigeria three weeks ago. The outfit has threatened to sell of the abducted girls into the slavery market.
Obama has asked the US administration to help Nigeria in its search for the abducted girls, Michelle revealed.
For the first time, Michelle delivered her weekly address at Whitehouse as a solo act. She started her address by wishing all the mothers on the occasion of Mother's Day.
"Hello everyone, I'm Michelle Obama, and on this Mother's Day weekend, I want to take a moment to honor all the mothers out there and wish you a Happy Mother's Day," Michelle wished.
The US First Lady stated that as a mother of two young daughters, she shared the plight of the kidnapped Nigerian girls. Michelle expressed her mind of thoughts, prayers and support to the abductees.
"Like millions of people across the globe, my husband and I are outraged and heartbroken over the kidnapping of more than 200 Nigerian girls from their school dormitory in the middle of the night," Michelle stressed.
Several celebrities have joined Michelle in expressing their support to the kidnapped girls and to help them get back home. Noted actresses, such as Reese Witherspoon, Amy Poehler and Jessica Biel, have taken to social media to offer support to the kidnapped girls and their grieving parents and families.
Michelle further said: "This unconscionable act was committed by a terrorist group determined to keep these girls from getting an education - grown men attempting to snuff out the aspirations of young girls."
Both Obama and the US Secretary of State John Kerry have condemned the kidnapping and stated that the Nigerian government has welcomed the US government's help and expertise in the search for the abducted girls.
The US-sent military and intelligence team has already arrived in Nigeria, to assist in the hunt for the girls.
Mentioning Pakistan's Malala Yousafzai for her determination to stand up for girls' education, Michelle emphasized the need to educate girls. Education is the best chance for girls for a bright future, not just for herself, but for her family and her nation, Michelle added.