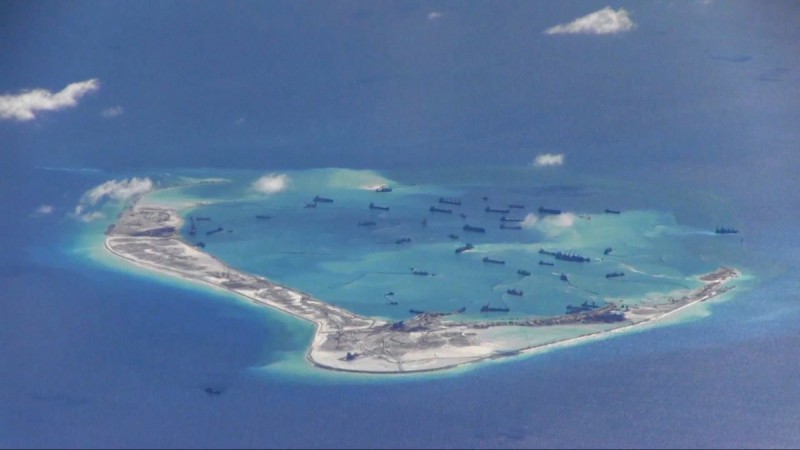 China accused the United States of violating Chinese law when an American warship sailed within 12 nautical miles of an island in the disputed waters of South China Sea.
US Navy ship USS Curtis Wilbur sailed close to the Triton Island, which is part of the Paracel Islands in the region that China makes territorial claims over, and the Pentagon called it a challenge to "excessive maritime claims".
The incident comes just a month after tensions between China and the US intensified after an American B52 bomber flew close to the Spratly islands, which Beijing called "military provocation".
"The American warship has violated relevant Chinese laws by entering Chinese territorial waters without prior permission, and the Chinese side has taken relevant measures including monitoring and admonishments," China's foreign ministry said on Saturday, according to Reuters.
There was reportedly no Chinese ship in the vicinity of the American warship on Saturday when the US Navy was conducting a freedom of navigation exercise, similar to the one it had carried out last October.
"This operation was about challenging excessive maritime claims that restrict the rights and freedoms of the United States and others, not about territorial claims to land features," Pentagon spokesman Captain Jeff Davis said.
China's claim over the disputed islands is rivalled by similar ones by the neighbouring countries of Vietnam, Malaysia and the Philippines.
The South China Sea is a crucial route for over $5 trillion of world trade, and the US claims that the territorial claims over the region are " inconsistent with international law".
China has constructed airstrips on some of the disputed islands and landed two test flights in the region earlier this month.
The United States had criticised the flight landings, as it considers that the construction on the Spratly Islands could be potentially put to military use by China.