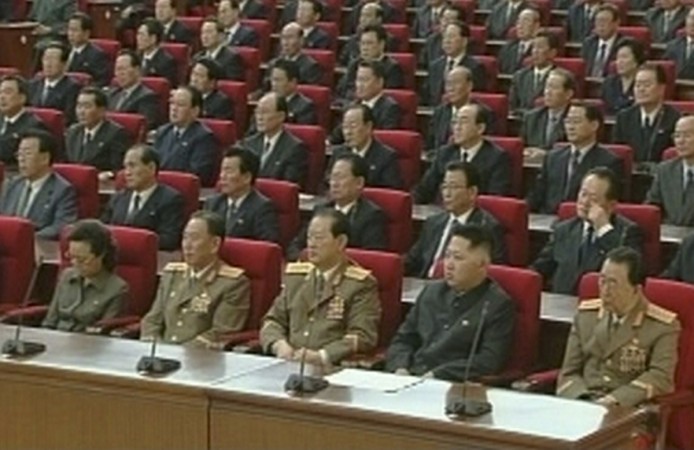 North Korea has accused the United States of planning to invade the country under the 'guise' of human rights abuses, two days after the United Nations moved on referring the communist nation to the International Criminal Court (ICC) for crimes against humanity.
The UN General Assembly voted in favour of referring North Korea to the ICC on Thursday after a UN report in February revealed human rights abuses in North Korea, including Nazi-era like killings.
In retaliation, North Korea has vowed to enhance its nuclear power to counter US hostility, according to the country's central news agency KCNA.
"Now that the US hostile policy with an aim to invade our republic under the guise of human rights has become apparent, the idea of denuclearising the Korean peninsula itself is no longer valid," North Korea's foreign ministry spokesman was quoted as saying by KCNA.
"Our effort to strengthen our defensive military power including nuclear power will be doubly stepped up in every way," he said.
The UN Security Council will take up the resolution on Monday, though resistance is expected from China and Russia in taking action against Pyongyang.
North Korea's UN delegation had rejected the resolution and called it a 'political plot'.
"My delegation totally rejects the resolution. It is a product of a political plot and confrontation. My delegation will not tolerate any attempt to use the human rights issues as a tool for overthrowing its social system," North Korea's deputy UN ambassador An Myong Hun had told the assembly.
The allegations of invasion against the United States come days after reports emerged that the Obama administration was planning to increase American naval presence in the Pacific to "deter" Pyongyang.
"The concerns are that the North will take some provocative actions that will allow the situation to get out of control... any sort of ballistic missile threat or capability of North Korea is potentially very dangerous," US Secretary of the Navy Ray Mabus was quoted as saying by South Korea's Yonhap News.
The US and North Korea have been engaged in a diplomatic stand-off over the hacking of Sony Pictures Ltd, and the US Federal Bureau of Investigation categorically blamed the latter for the cyber attack.
The White House had on Friday termed the Sony hack, which led to the withdrawal of the film "The Interview" as a "serious national security matter".