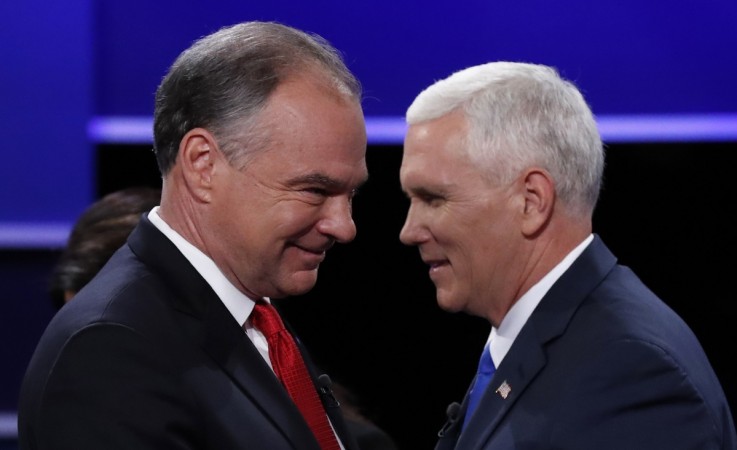 The debate of the vice presidential nominees Democratic Virginia Senator Tim Kaine and Republican Indiana Governor Mike Pence was held on Tuesday, October 4 night.
The guns were blazing at Longwood University in Farmville, Virginia, 34 days ahead of the American presidential elections and neither Pence nor Kaine refrained from going on the offensive. Over the course of the 90-minute debate, Republican candidate Trump was called a "fool" and Democratic nominee Hillary Clinton was called "weak."
Although the duo clashed on topics ranging from bilateral relations with Russia and abortion laws to Syrian safe zones, they did find it hard to not bring Trump and Clinton up every so often. Kaine pointed out that Trump has publicly lauded dictators like Vladmir Putin, Kim Jong-un and Saddam Hussain, further adding, "If you don't know the difference between dictatorship and leadership, then you've got to go back to a fifth-grade civics class."
However, based on a CNN/ORC poll of the debate, Pence seems to have marginally won, at 42 percent. In fact, throughout the debate, Pence seemed to be more in control of the situation than Kaine, giving the audience a taste of compassionate conservatism. He also came across as cool and collected as opposed to the Virginian senator whose demeanour was interpreted by many to mean nervous.
Despite this, the debate does not seem to have made a remarkable difference in the voters' choice. After all, the cross-talks and name-calling vice-presidential candidates took away from actually answering many of the questions raised by debate moderator Elaine Quijano.