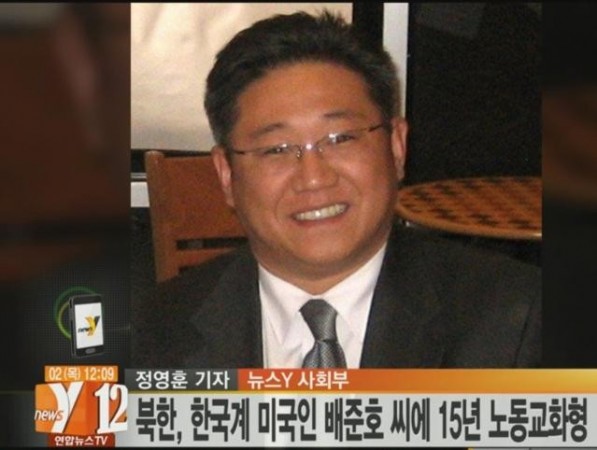 The government of United States said on Monday that it wants to dispatch a special envoy to North Korea for talks, after the detained American called on the US government for help to secure his release.
Kenneth Bae, a 45-year-old Christian missionary, was arrested in the North in November 2012, after he entered the nation with a group of tourists. North Korean government later announced that Bae was sentenced by its highest court to 15 years in prison for an unspecified crime.
On Monday, the American hostage expressed hope that the US government will do its best to secure his release during what he called a press conference that was held at his request, The Associated Press reported from Pyongyang.
Japan's Kyodo news agency said that Bae, who was wearing a grey uniform, spoke to journalists in Korea for about three and a half minutes before leaving the scene with two North Korean guards.
After the news of the purported press conference spread, the US said that it is doing all it can to secure the release of the hostage.
"As we have said before, we remain very concerned about Kenneth Bae's heath. We continue to urge the DPRK (North Korea) authorities to grant Bae amnesty and immediate release," the State Department's spokeswoman Jen Psaki said in a statement to South Korean Yonhap News Agency.
North Korea has reported that Bae has admitted to his wrongdoings, despite repeated insistence by his family members in America that he is innocent.
"Over the past five months I have been hospitalized, but now I am afraid I may be sent back to the labor camp. Worst still, I am afraid the pardon for me becomes more difficult," North Korea's state news agency, KCNA quoted Bae.
US officials have said that they were preparing Ambassador Robert King, a special envoy on North Korean human rights issues, to be sent there for negotiations on Bae's release. He was planned to be sent to the reclusive communist Asian nation last August at North Korea's invitation. But Pyongyang suddenly cancelled the invitation shortly before he was going to depart.
Bae's sudden arrest last year came amid a deadly political uproar among North Korea, its Southern counterpart and the United States. North Korea was angry after a series of additional sanctions were slapped against the nation at the wake of the notorious 12 February 2013 underground nuclear test.
The joint US-South Korea military drill that shortly followed only helped raise temperatures in North Korea. Many analysts believe that Pyongyang arrested the American national so that the isolated nation could use the person as a bargaining chip against the United States.
The current developments that are taking place also suggest that North Korea is likely to bargain a halt on the military drill that is going to take place from late February till the end of April 2014. The allies have insisted that the exercises was aimed at enhancing joint combat readiness and deter threats from North Korea, much to the disgrace of Pyongyang.