The US military tested the controversial Terminal High Altitude Area Defense (THAAD) missile system on Tuesday by shooting down a simulated intermediate-range ballistic missile (IRBM) over the Pacific Ocean.
The test, which was planned months ago, came a week after North Korea successfully tested a long-range intercontinental ballistic missile (ICBM) on July 4, heightening concerns about the potential threat from the isolated country.
Tuesday's test in Kodiak, Alaska was the first of its kind experiment with the THAAD system against an incoming IRBM, which experts say is much faster and more difficult to hit than shorter-range missiles. According to the US Missile Defense Agency (MDA), the simulated IRBM was designed to behave like the missiles developed by countries like North Korea.
"The successful demonstration of THAAD against an IRBM-range missile threat bolsters the country's defensive capability against developing missile threats in North Korea and other countries," the federal agency said in a statement.
What is THAAD?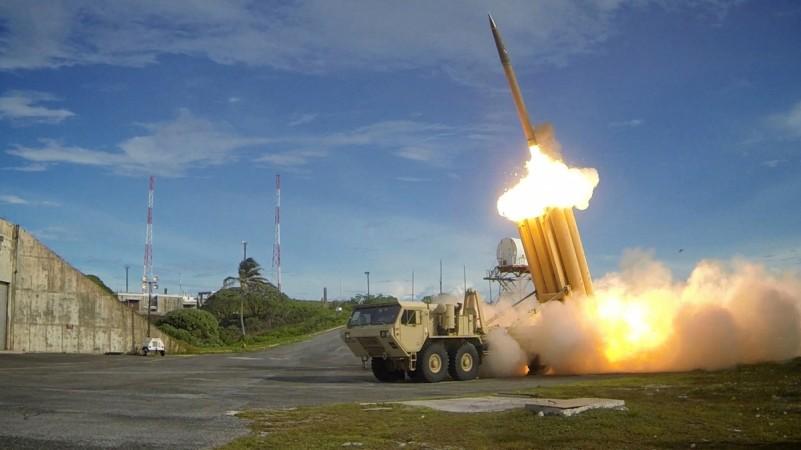 THAAD is a missile defence system that can target and shoot down incoming short and medium range ballistic missiles in their terminal phase.
THAAD has a range of up to 200 kilometres, and can intercept missiles at altitudes of 40-150 kilometres.
THAAD has the ability to intercept missiles both inside and outside the earth's atmosphere.
THAAD is interoperable with other ballistic missile defence systems, and is highly mobile and deployable worldwide.
THAAD has the high firepower to counter mass raids -- up to 72 Interceptors per battery.
How does THAAD work?
A THAAD system is comprised of five major components, including interceptors, launchers, a radar, a fire control unit and support equipment.
Once the enemy launches a missile, the THAAD radar system detects the incoming threat, before relaying it to the fire control unit. After the target is engaged, the THAAD fire control unit then instructs the launch of an interceptor missile.
Once the interceptor is fired from the launcher truck, it uses kinetic energy to destroy the enemy projectile in the terminal phase of its flight.
First-ever test against an IRBM
The latest successful test leaves THAAD with a 100 percent track record for all 14 intercept attempts since its flight testing began more than a decade ago.
However, Tuesday's test marked the system's first-ever success against an IRBM as the MDA had not previously tested THAAD against such a missile, even though it was deployed in the island of Guam, a US territory in the Pacific, in 2013.
The US also deployed a THAAD system in South Korea's Seongju County this year, sparking criticism from many who believe the move endangers the lives of people living nearby.
The IRBMs have a range of between 1,800 and 3,100 miles (nearly 3,000 to 5,000 kilometres). While Guam is about 3,400 kilometres from North Korea, the distance between the secluded nation and Seongju is about 500 kilometres.
To target the mainland US, North Korea would need to launch an ICBM with a range greater than 3,400 miles (about 5,500 kilometres). Although Pyongyang claimed the missile it tested on July 4 was an ICBM, the US military described it as an intermediate-range missile.
THAAD no match for ICBMs
If North Korea is indeed capable of firing an ICBM as it has been claiming, it would be difficult for the US to counter it. John Schilling, a contributor to 38 North, a Washington-based North Korea monitoring project, said THAAD is not designed to hit a missile like ICBM, which travels extremely fast.
"To engage an ICBM with THAAD would be like asking a high school baseball player to hit a fastball from a major-league pitcher - literally out of his league," Reuters quoted Schilling as saying.

When it comes to the Korean Peninsula, the single THAAD battery in South Korea is positioned too far to be able to protect Seoul. Even if the battery is situated properly, the two launchers it has with eight interceptors each may not be enough to thwart North Korea's offensive.
In May, South Korean President Moon Jae-in ordered a probe into the THAAD missile defence system, potentially jeopardising the major military project. Moon had previously advocated for more diplomatic ways to ease tensions with North Korea.