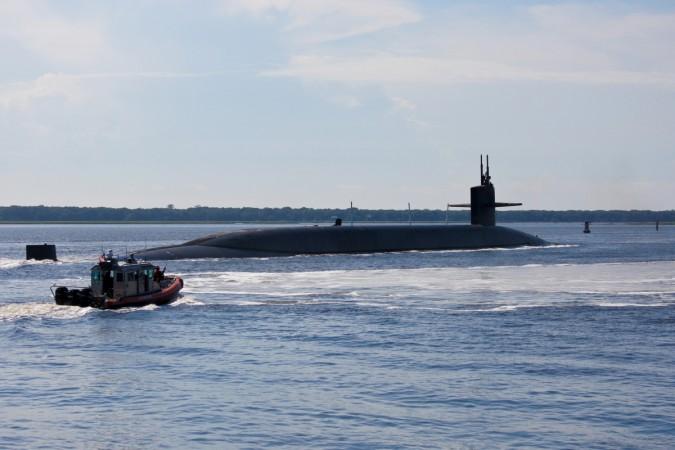 The U.S. Navy has test-fired three Trident II D5 missiles from an Ohio-class ballistic missile submarine, UPI reported.
The Trident II D5's tests were conducted to check and validate the accuracy and performance of these sixth-generation Fleet Ballistic Missile (FBM) program. The missile has a range of over 4,000 nautical miles (or 7,360 kms) and is a three-stage, solid propellant with inertial guidance system.
The report said that the missiles were unarmed and were fired over a period of three days. "A credible, effective nuclear deterrent is essential to our national security and the security of U.S. allies and friends," UPI reported, citing the U.S. Navy.
"Strategic weapons tests, exercises and operations such as FCET-52 demonstrate the readiness of the submarine launched Trident II missile. As the most survivable leg of our strategic deterrent triad, it provides the national command authority with assured second-strike capability," the U.S. Navy added.
The Trident II SLBMs can carry thermonuclear warheads and features multiple, independently targetable re-entry vehicles (MIRV). This is a part of the U.S. strategic deterrent.
The Trident missile follows the U.S. Navy's successful Polaris, Poseidon, and Trident I C4 programs.
U.S. defence major Lockheed Martin is involved in the development and production of the missile along with the support equipments. Since the completion of its design in 1989, the Trident II D5 missile has had over 150 successful test flights, said Lockheed Martin on its official website.
The Ohio-class submarines are capable of carrying up to 24 submarine-launched ballistic missiles (SLBMs) with multiple independently-targeted warheads.
The U.S. has voiced concerns over the increased Chinese military build-up and land reclamation activities in the disputed islands of South China Sea, where the U.S. Navy has been running patrols to support freedom of navigation. According to security website, GobalSecurity, eight U.S. submarines belonging to the Pacific fleet carry Trident II D5 missiles.