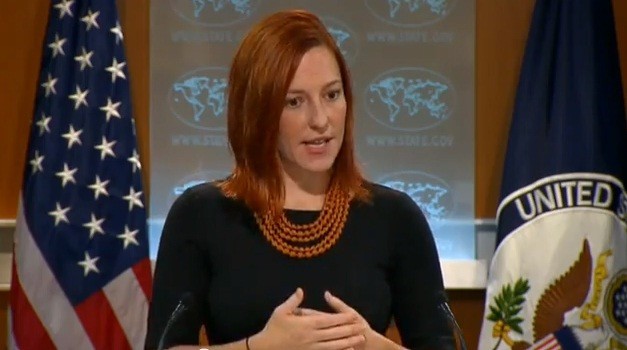 The United States has stated that it supports India and Pakistan's recent efforts of dialogue to resolve the outstanding issues between the two neighbours, according to the US State Department Spokesperson Jen Psaki in Washington.
Psaki welcomed the recent meeting of India's new Prime Minister Narendra Modi and his Pakistan counterpart Nawaz Sharif at Modi's first day of assuming power in Delhi.
Describing the meeting and exchange of pleasant ideas between the two leaders as a positive step, she said that the US supports the two countries in that direction. Even after Modi's swearing-in ceremony, he and Sharif have been communicating on a regular basis.
"We encourage dialogue between India and Pakistan. We feel that's a positive step. There have been some steps in recent weeks that we've been encouraged by. We believe dialogue is an important step in the process between India and Pakistan," PTI quoted Psaki.
On Modi's possible visit to the US for a bilateral strategic dialogue, she said that no date has been finalised so far. Referring to media reports on Modi's expected visit to the US, the spokesperson said that her country is working with Indian authorities on the matter.
She added that US offered forensics and investigative assistance to the Pakistani authorities in investigating the 9 June's barbaric attack on Karachi airport. However, Pakistan has not yet responded to the US' offer of assistance.
Psaki reminded her country's commitment of fighting terrorism, including threats from Tehrik-i-Taliban Pakistan (TTP), in partnership with Pakistan.
Stating that the US has taken TTP's extremism very seriously, she said that TTP is a designated foreign terrorist organisation and US has taken several combative steps in that regard.
Modi-Sharif Meet Brings Hope for Better Ties between India and Pakistan:
Modi invited Sharif to his coronation on 26 May, despite opposition from his own ally Shiv Sena. Likewise, Sharif also faced adverse situation in Pakistan when he received India's invitation to attend the ceremony. However, after two days silence, Sharif announced that he will visit India and attend Modi's swearing-in function, and the Pak PM received a warm reception from the latter.
The two regional leaders' positive attitude is seen as a first step towards mending their strained bilateral peace talks in the wake of 26/11 Mumbai terror attacks. The gestures of both the prime ministers have also evinced a hope that the political and business ties will be boosted in the near future.
Modi has made it clear to Sharif that the two counties could move forward with their peace dialogue only if Pakistan clamps down on terror elements emanating from its soil. Talks about normalisation of trade between the two countries also figured between their talks. India is now said to be willing to open Wagah-Attari border for trade with Pakistan.