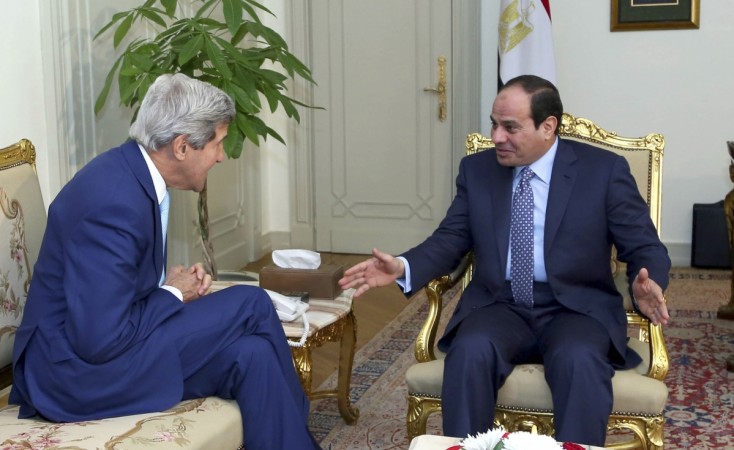 The United States has hinted that it will support Egypt's new government and restore its aids, irrespective of whoever rules the country -- a move that could make many accuse the US of turning a blind eye to concerns over the alleged human rights violations, and crack down on freedom of speech and expression in the country.
In its eagerness to work with its key Middle Eastern ally, Egypt; US seems to be ignoring the questionable legitimacy of General Abdel Fattah el-Sisi, who led last year's military takeover ousting its long-time leader Mohammed Morsi.
Arriving in Egypt only a day after a court in the country confirmed death sentences for 183 Muslim Brotherhood supporters, including the top leader of the group; Secretary of State John Kerry signaled on Sunday that Obama administration was ready to repair relations with the country.
In a news conference he reaffirmed Washington's "historic partnership" with Egypt.
"This is a critical moment of transition in Egypt (with) enormous Challenges," Kerry said, choosing not to overanalyze the widespread concerns of human rights issues especially with regard to the death sentencing of Brotherhood supports – a move that has been widely conceived to be arbitrary and problematic.
Kerry also expressed firm confidence that Washington would soon fully restore its $650 million – the first tranche of its $1.3 billion annual aid to Egypt's military. The aid along with 10 Apache helicopters were frozen last year after the army overthrew President Morsi.
"I am confident that we will be able to ultimately get the full amount of aid," Kerry said adding: "I am confident...that the Apaches will come and that they will come very, very soon."
The debatable US move comes even as Senior US officials have sounded alarm at the new Egyptian government's crackdown on journalists and civil-society leaders at the Muslim Brotherhood.
In what will be the largest mass sentencing in the country, an Egyptian court sentenced the 180 Brotherhood supporters to death for allegedly attacking a police headquarter in southern Egypt, killing an officer and a civilian.
The Egyptian government is also criticized for capturing and trying three journalists from the Qatar-based Al Jazeera network and 17 co-defendants for allegedly conspiring with the Muslim Brotherhood. A verdict in the case is expected on Monday.
Kerry said that he has raised these issued with Sisi in his nearly two-hour session in the presidential palace in Cairo and said that the new Egyptian leader was in need of more time to address the concerns.
"He gave me a very strong sense of his commitment to make certain that the process he has put in place, a re-evaluation of human-rights legislation, a re-evaluation of the judicial process, and other choices that are available are very much on his mind," Kerry said adding that it was important that the president be given an opportunity "to begin to get his cabinet moving and begin to focus on these issues."