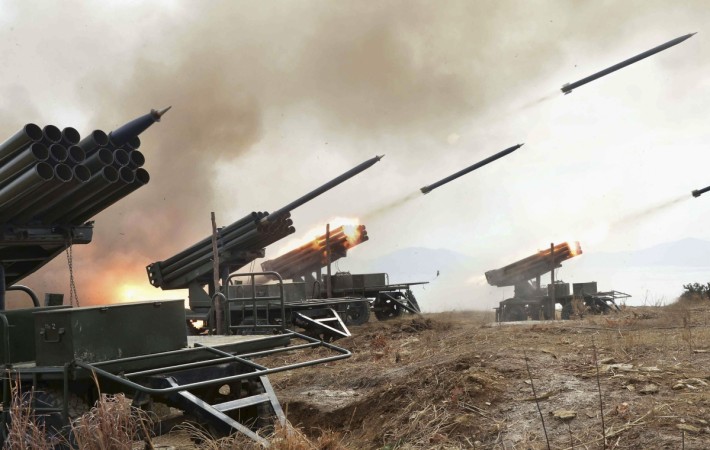 As South Korea and the United States started their annual military drill on Monday, North Korea retaliated by firing two short-range missiles into the East Sea.
The firing came hours after Seoul and Washington kicked off their joint annul 'Key Resolve' and 'Foal Eagle' military exercises.
"North Korea fired two short-range missiles with a range of some 490 kilometers into the East Sea from its western port city of Nampo between 6:32 a.m. and 6:41 a.m. today," the Joint Chiefs of Staff (of South Korea and the US) said in a statement.
The reclusive North Korean regime has always felt irked by the drill that involves tens of thousands of troops. This manifests in the firing of missiles, besides drumming up support at home to "prepare for war" against the two countries.
Referring to the US, the North Korean leader Kim Jong Un reportedly his army to gear up to "tear to pieces the Stars Stripes."
'Unpardonable War hysteria'
North Korea's foreign ministry issued a statement later in the day, promising to respond with retaliatory measures to the joint exercises, which it perceives as a conspiracy to overthrow its regime.
"The countermeasure of justice by our military and people will step up furthermore in order to shatter the joint drills," the statement carried by North's KCNA news agency said, according to South Korean Yonhap News Agency.
Another unidentified spokesman for the General Staff of North Korean People's army also issued a statement on Monday, promising "merciless strikes" against the ongoing drill.
"Key Resolve and Foal Eagle are an undisguised encroachment upon the sovereignty and dignity of the DPRK and an unpardonable war hysteria of dishonest hostile forces," said the statement, also carried by Korean Central News Agency, or KCNA.
"The only means to cope with the aggression and war ... is neither dialogue nor peace. They should be dealt with only by merciless strikes," the statement said, adding that the two allies "will have to bitterly regret the irretrievable consequences to be entailed by Key Resolve and Foal Eagle."