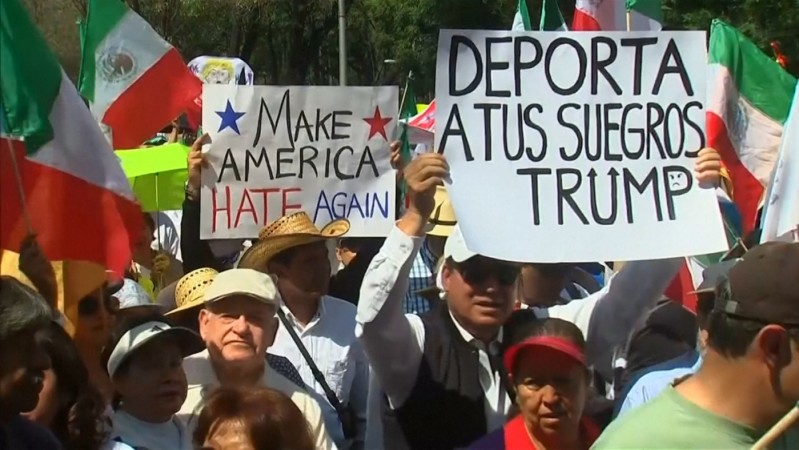 United States Homeland Security Secretary John Kelly on Wednesday (March 9) said ever since the US President Donald Trump ordered to build the controversial wall along the southern borders on Mexico, the number of illegal crossing of Mexican immigrants into America has declined by 40 per cent.
Critics slam Donald Trumps travel ban 2.0 as un-American
The official said the decline in the number of illegal crossings began after Trump assumed the presidential office on January 20 and vowed to deport several of the estimated 11 million illegal immigrants present in America.
Kelly, in a statement, said the flow of illegal border crossings was measured by apprehensions and the prevention of inadmissible persons at the southern border dropped to 18,762 people in February from 31,578 in January.
The top official said the US Customs and Border Protection agency, which compiled the data, generally noted a 10-20 per cent increase in apprehensions of illegal immigrants from January to February every year.
Trump, on January 25, had signed an executive order to begin the construction of the wall along the 2,000-mile (3,200-km) US-Mexico border, moved to strip federal funding from "sanctuary" states and cities that harbour illegal immigrants, and expanded the force of US immigration agents, Reuters reported.
"Since the administration's implementation of Executive Orders to enforce immigration laws, apprehensions and inadmissible activity is trending toward the lowest monthly total in at least the last five years," Kelly added.
Trump in January also signed an executive order to bar refugees and people from at least seven Muslim-majority countries from entering the United States. His order faced severe backlash and criticism from across the country. The state of Washington also filed a lawsuit against it.
Although the US president's first travel ban order had been temporarily stayed by a federal court, Trump recently came up with a revised ban with not many changes made to it. Iraq was removed from the latest list of the banned countries.