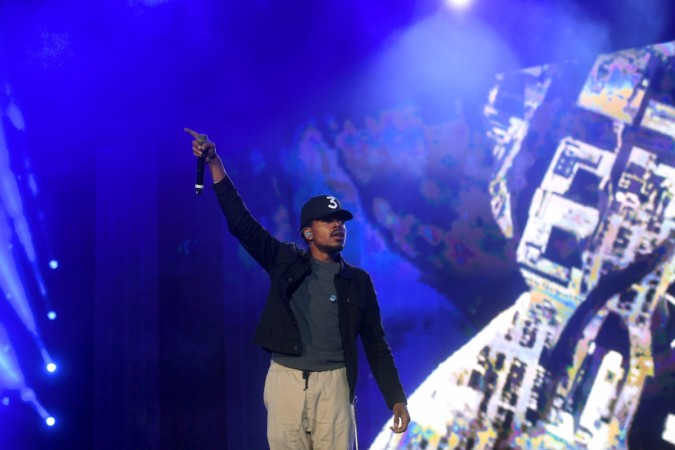 Chance The Rapper led hundreds of concert-goers on Monday from a free concert in Chicago to early voting booths, breaking records and invigorating the youth in the country to vote.
The rapper, who had performed at a Hillary Clinton rally on Friday with Beyonce, Jay Z, and J Cole, took hundreds of voters to follow him to the polling booths from Grant Park. The event was an attempt to get African-American, Latino and young voters to cast their votes. The city is also known to influence the vote of the rest of the state of Illinois.
Thanks to Chance's efforts, the early voter turnout was 3,50,000 in Chicago in 2016. This move can give a push in Clinton's favour, who has been trying to woo the black votes to her side.
"Show the younger generation what standing up looks like," Chance the Rapper told the crowds. "Thank you to everyone that understands that this is what democracy looks like and wanted to have their voices heard."
The event, called "Parade to the Polls", was held at Petrillo Music Shell in Grant Park and was organised by his non-profit 'Parade to the polls."
"I think everyone felt really empowered. We're sure of ourselves, and we know that we can go out and make a difference," said an early voter, Ariel Pritchard.
With Chance's group and Black Youth Project 100 leading people to the polling stations, queues extended for up to four blocks.
"This is the largest turnout I've seen for early voting since I've worked here," said volunteer Ronald Johnson, according to ABC7Chicago.
Related
US elections 2016: 107-year-old Donella Wilson, daughter of slaves, says she's looking forward to first woman president
Not happy with the US elections result? You can move to Canada
Homage to Susan B Anthony: This American suffragist never got to vote, so people place their 'I Voted' stickers at her tombstone
When to expect the US presidential election results