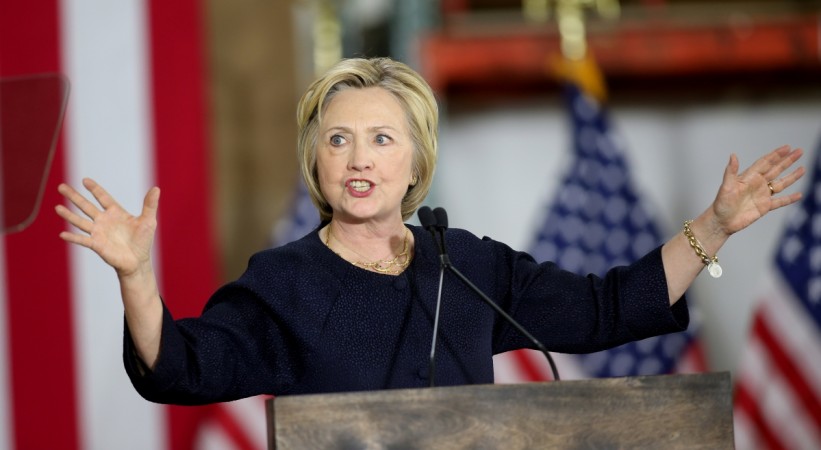 U.S. Presidential candidate Hillary Clinton was on Saturday questioned for three and a half hours by the Federal Bureau of Investigation (FBI) over the private email server she used while serving as the U.S. secretary of state.
The FBI is currently probing the case and trying to ascertain whether any sensitive information she sent over the server and in her emails has been compromised in any way. If that turns out to be the case, her Presidential ambitions could be all but over.
What is currently hurting Hillary is husband and former U.S. president Bill Clinton's meeting with Attorney General Loretta Lynch, with speculations rife that he was trying to somehow influence the investigation. However, in an interview to MSNBC, Hillary said it was a "short, chance meeting at an airport tarmac" and nothing more.
She also said they "did not discuss the Department of Justice's review," and that they "wouldn't do it again."
Her questioning by FBI at the headquarters of the probe agency in Washington comes just four months before the Nov. 8 Presidential elections, and in the wake of great scrutiny of whether she was the right Democratic candidate for the post or not.
The Democrats are expected to formally nominate her as their candidate for the president's post at a party convention four weeks from now.
Polls show Hillary is currently ahead of billionaire Donald Trump, the presumptive Republican nominee, which makes her the front-runner for the White House, according to a Reuters report.
Trump, however, did not take a very charitable view of the turn of events, and did not let go of the opportunity of taking digs at his political adversary. "Take a look at what happened w/ Bill Clinton. The system is totally rigged. Does anybody really believe that meeting was just a coincidence? [sic]" he tweeted.
He also said: "Bill Clinton's meeting was a total secret. Nobody was to know about it but he was caught by a local reporter. [sic]"